Airsoft pistol MK23 Special Operation with silencer, gas
Description
Replica of the MK23 SOCOM by ASG. Constructively almost identical to the Tokyo Marui brand. Even the magazine is compatible. It is made 1: 1 to real gun and very well processed. Although it is plastic, it is indistinguishable from the original. Small pistol parts are metall. For example, the barrel, the safety levers, the entire magazine, and so on. With a heavy metal magazine the gun weight of the pistol is 775 g. In addition , packing also include silencer. You can screw it directly onto the gun barrel without any adapter. So you get a luxurious looking set, but also a quieter and more accurate weapon. Inside the silencer is an inner barrel that fit to the barrel of the gun. This improves weapon accuracy and performance. The silencer body is also plastic.
The slide can be pulled back by the hand as a real gun, but it is not necessary for shooting. Just load BBs, fill Green gas and insert magazine into pistol....and just press the trigger. You do not have to worry about it. Only the inner parts and the hammer move when shooting. Gun has no blowback. Therefore it has lower gas consumption and is quieter.
Pistol allows a real breakdown, It has two-sided real and functional safety levers. At the end of the grip, the eye attaches to the safety wire.
Suitable ammunition are BBs 0.20 - 0.23g.
---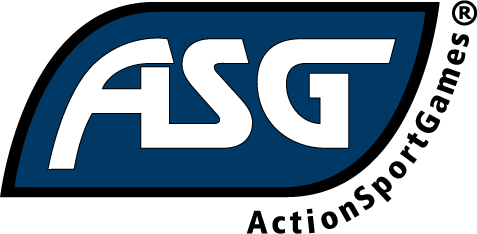 ActionSportGames (ASG)
is a worldwide leader in the business of replica firearms and accessories manufacturing – including Airsoft guns, Airguns, CO2 guns and firearms replicas. They specialize in 1:1 scale replica guns and accessories for fun, action, sports, entertainment and collection. Their assortment consists mainly of licensed models and exclusive subbrands of ActionSportGames® A/S. One of ASGs goals is to become the preferred supplier in the firearms replica business through worldwide license agreements, quality brands and premium service – before, during and after sales. Cooperation with CZ of the Czech Republic is a good example of how successful such a partnership can be, since most of CZs production firearms are now represented as both Airsoft guns and Airguns.
Parameters
General info
| | |
| --- | --- |
| Shooting mode | Semi action |
| Operation | Gas (no Blowback) |
Estimated performance (+/- 10%)
| | |
| --- | --- |
| BB energy (J) | 0,8 |
| Power source | Green Gas |
| Velocity (m/s) | 90 |
| Velocity (fps) | 295 |
| Theoretical range (m) | 41 |
| Appropriate balls weight | |
Outer specs.
| | |
| --- | --- |
| Length (mm) | 245/427 |
| Weight (g) | 770 |
| Material | Plastic |
Inner specs.
| | |
| --- | --- |
| Hop-up | Plastic adjustable Hop-Up |
Magazine
| | |
| --- | --- |
| Capacity | 28 |
| Type of the magazine | Low capacity spring |
Package contents
| | |
| --- | --- |
| Battery | No |
| Charger | No |
| Magazine | Yes |
| Other accessories | Silencer |