Tactical polymer universal holster Per-Fit - black
Description
Amomax Per-Fit holster is high compatibility to fit more than 80 airsoft or handguns, such as Glock, Sig Sauer, CZ, Ruger, Springfield Armory, Beretta, Smith & Wesson, 1911 series, and etc.
Most shooting enthusiasts own more than 1 handgun. It's costly for an amateur to purchase several holsters to fit each of their handguns. Amomax Per-Fit holster would be a smart and economic choice.
With the large release/lock lever, the weapon sits firm and secured inside the holster for all demanding situations. It is self-locking - the holster grips and locks the gun. The holster has a paddle mount for belts up to 50 mm width or pant waists allowing for concealed carry. The paddle features a ergonomic back for comfort and better grip.
Appropriate tension is basic for the holster to perform perfectly. Easy tension adjustment steps:
Loosen 2 front screws.
Put the handgun in the holster.
Adjust the space to fit your handgun by loosening or tightening the screws.
Made from durable, high-tech black polymer. The Tactical Quick Release holsters can rotate 360 degrees (fixed position every 9 degrees), so you can it easy fit for every application (small of back, cross draw, side draw etc.).
PER-FIT HOLSTER FIT CHART
| Airsoft | cm127, GTP9, BLU, hi capa, M17 |
| --- | --- |
| Glock | 17, 19, 19X, 21, 26, 34, 42, 43; Gen4, Gen 5 |
| 1911 | 3" 4" 5" |
| CZ | P07, P09, P10C, 75, 75B, 75 SP-01 |
| SIG | P226, P320, P320SC, P938, SP2022 |
| Wather | P99QA |
| Springfield | XDs, XD, XDM, XDE |
| Browning | Hi Power |
| Taurus | PT709, PT809, 840, PT100, PT92, G2c, PT111, PT140, PT145, 24/7 |
| FN | FNX-45, FN509, FNH-45 |
| Smith & Wesson | M&P 9mm, .40, .45; M&P Shield, M&P compact, M2.0 |
| Hi Point | C9 |
| Beretta | PX4, M9, 92, 92FS, 96, 96FS, 92A1 |
| EAA | Witness |
| Ruger | American 9mm, SR9 |
| Tokarov | T33 |
| Steyr | M9-A1 |
| Bersa | Thunder 9 |
| Caracal | Enhanced F |
| Khar | cw45 |
| KelTec | PF9 |
---
MULTIPLE CARRYING WAYS
Amomax holster is compatible with 4 different carrying platforms – paddle (standard), belt clip, MOLLE, and drop leg platform (see Related products).
All the carrying platforms can be replaced by only one screw. User can carry them in daily use, outdoor sports, normail shooting training and competition. Holster will stay firmly on belt, leg and MOLLE system even in fast move.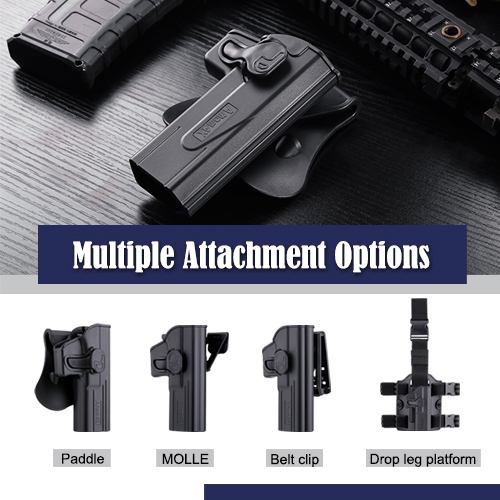 ---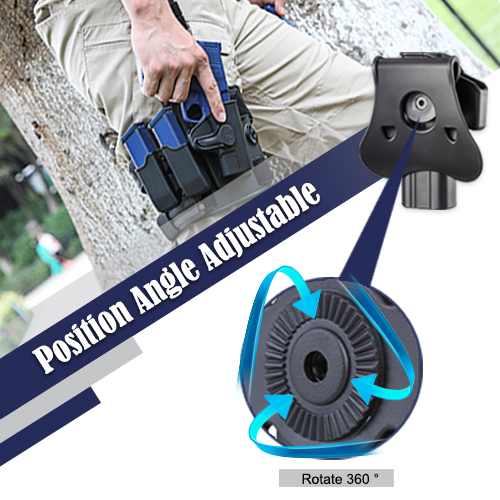 360 DEGREES ROTATION
Holster body and carrying platform are connected with a tooth gear. The holster body is 360 degrees rotation. User can easily adjust the carrying position.
Steps to adjust the carrying position:
Slightly loosen the screw by Allen key (included) on the back
Adjust a preferred angle and tighten the screw
---
Established in 2018, Amomax emerges at the right moment; aims to offer qualified and affordable gear for every airsoft player, Amomax starts with a product line of holster and accessories for airsoft pistols.
As a manufacturer, Amomax brand position locates in airsoft market. With professional design, competitive price, and a passionate team, it has a bright tomorrow.