Airsoft rifle CZ Scorpion EVO 3 A1 Carbine
Description
Carbine version of the EVO 3 A1 submachinegun, with extended bull-barrel and handguard featuring M-Lok attachment points. The CZ Scorpion EVO 3 A1 has been envisioned, developed and built by ASG, to bring the Airsoft player closer to the experience of handling the real EVO 3 as possible. Like a real gun, the EVO 3 will stop firing when its stores run empty, and require activation of the bolt catch after a reloaded magazine has been inserted. Where the standard in Airsoft is to replicate the exterior in appearance only, the EVO 3 is built to be as tough as the real thing. The internals have been designed to deliver advanced functions using custom electronics, while having the strength required to handle both powerful springs and high-speed solutions.
New designed gearbox
Easy speed change
Electronically controlled gearbox
Empty magazine detection
4-position fire selector with genuine 3-shot burst
LiPo born
DeanT connector
Salamander
ULTIMATE basic engine
CNC machined parts
Made in Europe
---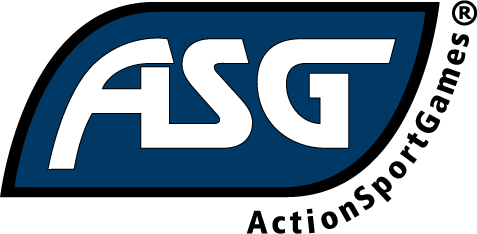 ActionSportGames (ASG)
is a worldwide leader in the business of replica firearms and accessories manufacturing – including Airsoft guns, Airguns, CO2 guns and firearms replicas. They specialize in 1:1 scale replica guns and accessories for fun, action, sports, entertainment and collection. Their assortment consists mainly of licensed models and exclusive subbrands of ActionSportGames® A/S. One of ASGs goals is to become the preferred supplier in the firearms replica business through worldwide license agreements, quality brands and premium service – before, during and after sales. Cooperation with CZ of the Czech Republic is a good example of how successful such a partnership can be, since most of CZs production firearms are now represented as both Airsoft guns and Airguns.
Parameters
General info
| | |
| --- | --- |
| Shooting mode | Semi and full auto |
| Operation | Electric (AEG) |
Estimated performance (+/- 10%)
| | |
| --- | --- |
| BB energy (J) | 1,7 |
| Velocity (m/s) | 130 |
| Velocity (fps) | 427 |
| Theoretical range (m) | 59 |
| Appropriate balls weight | |
Outer specs.
| | |
| --- | --- |
| Length (mm) | 655/855 |
| Weight (g) | 2665 |
| Material | Plastic body with small metal parts |
| Gunstock | Plastic (or fiber), folding |
| Foregrip | Metal, M-LOK mount |
Inner specs.
| | |
| --- | --- |
| Inner barrel length | 407 |
| Gearbox material | Metal alloy |
| Bearings | 8mm metal |
| Gears | metal alloy |
| Piston | nylon with 6 metal teeth |
| Piston head | Nylon head |
| Hop-up | Plastic adjustable Hop-Up |
Magazine
| | |
| --- | --- |
| Capacity | 75 |
| Type of the magazine | Low capacity spring |
Battery
| | |
| --- | --- |
| Suitable battery | |
| Connector | DeanT |
| Battery location | In foregrip |
Package contents
| | |
| --- | --- |
| Battery | No |
| Charger | No |
| Magazine | Yes |