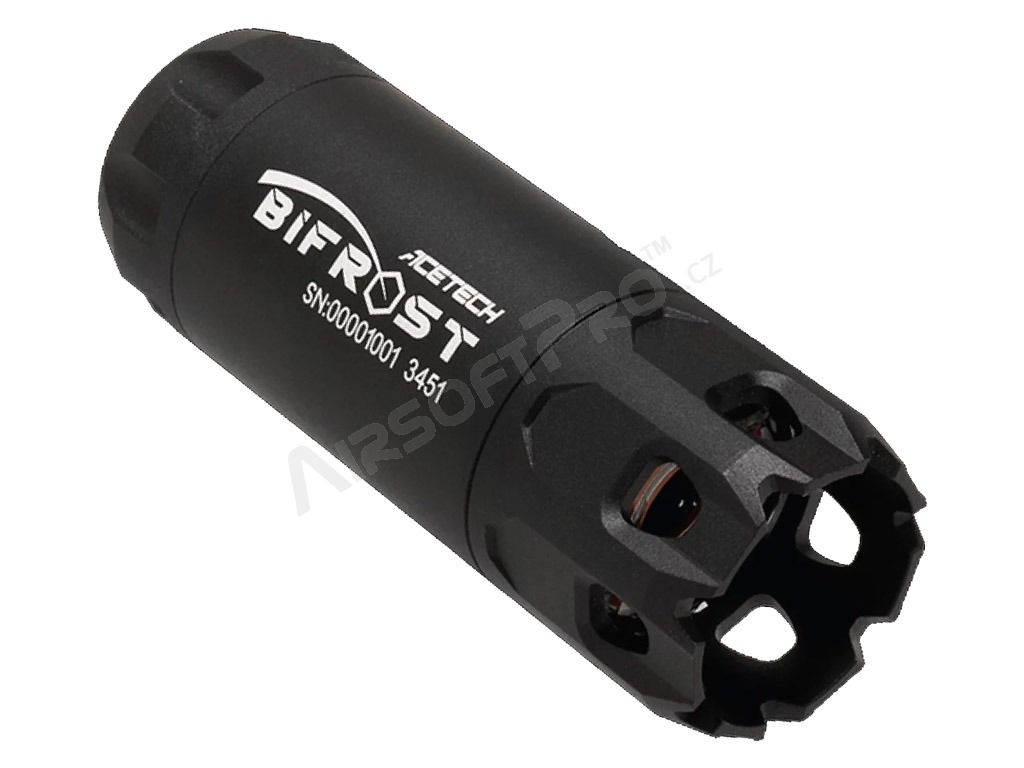 Bifrost Full Auto Tracer with multi-color flame mode - Black [ACETECH]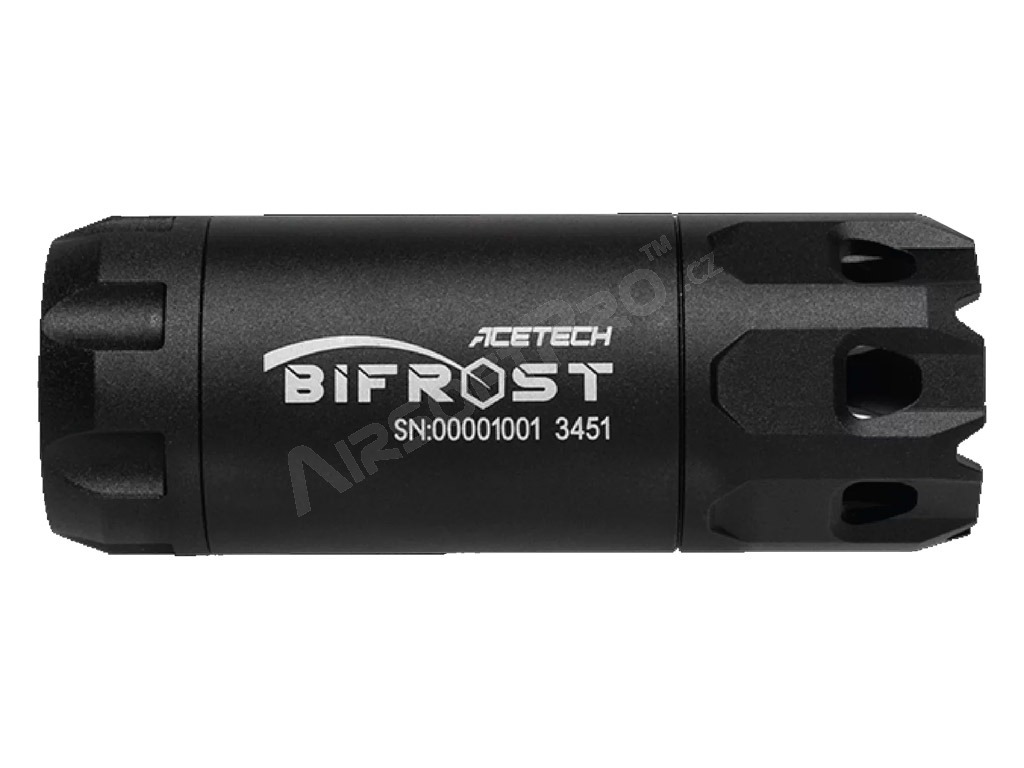 Bifrost Full Auto Tracer with multi-color flame mode - Black [ACETECH]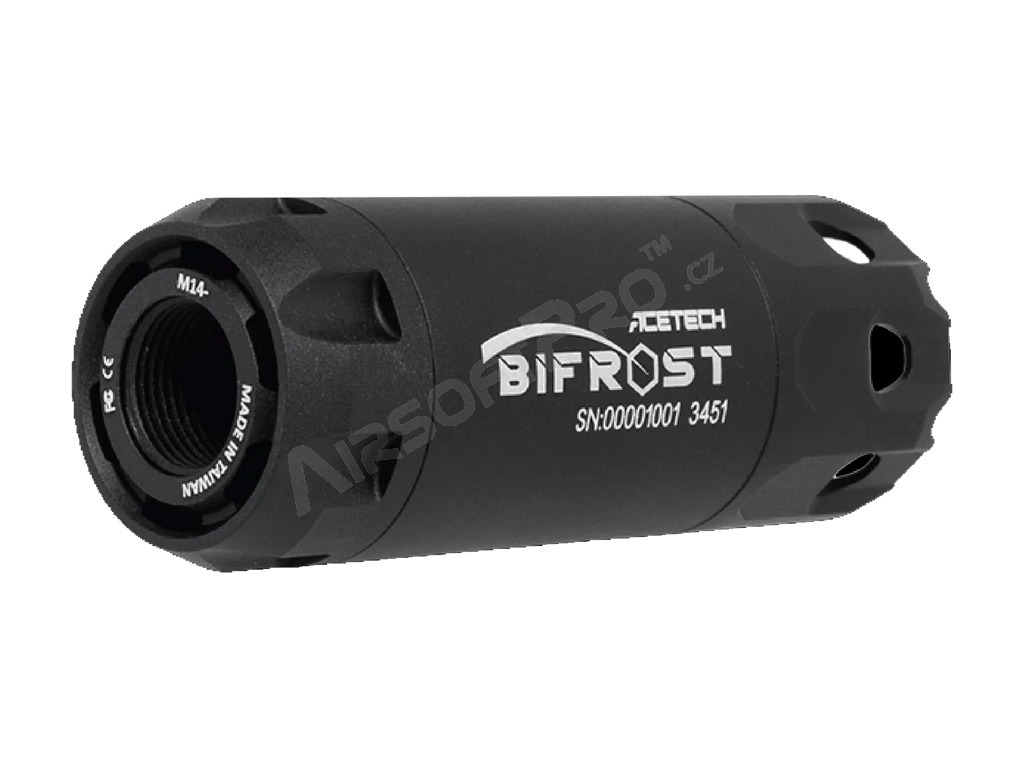 Bifrost Full Auto Tracer with multi-color flame mode - Black [ACETECH]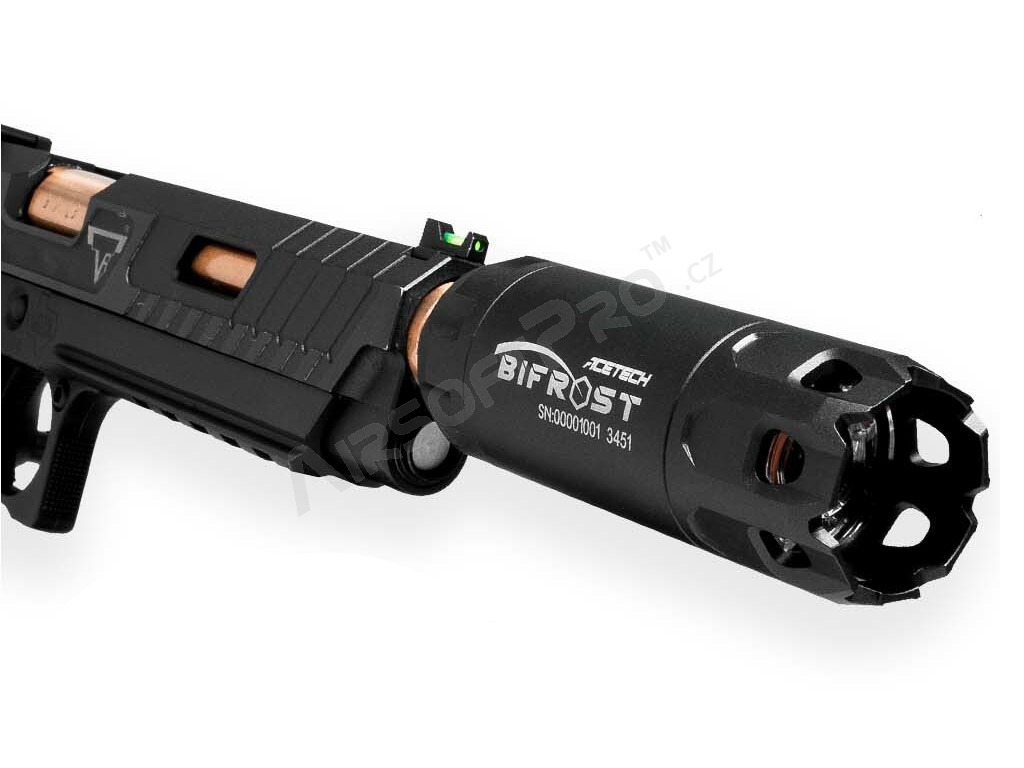 Bifrost Full Auto Tracer with multi-color flame mode - Black [ACETECH]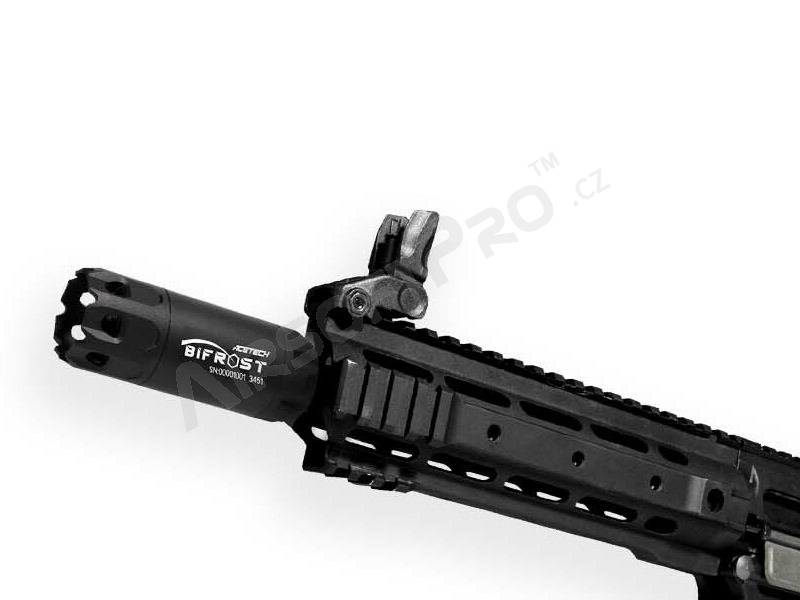 Bifrost Full Auto Tracer with multi-color flame mode - Black [ACETECH]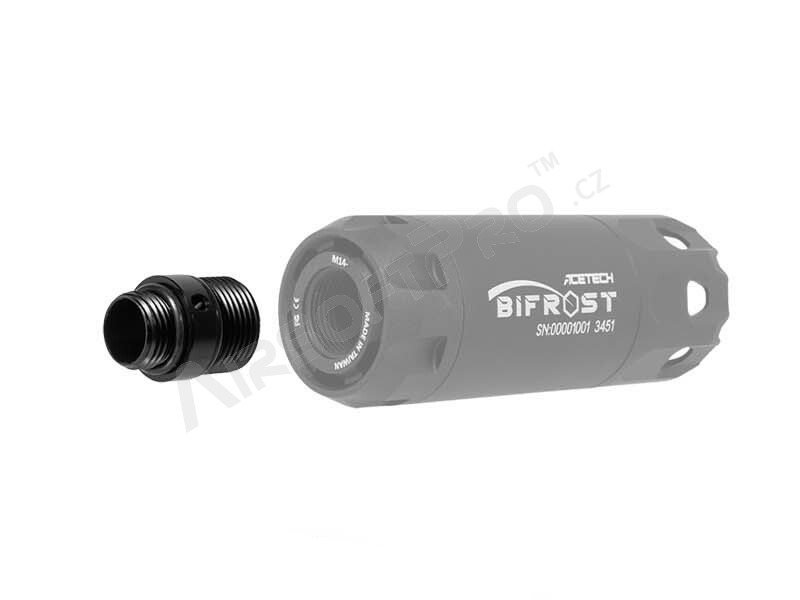 Bifrost Full Auto Tracer with multi-color flame mode - Black [ACETECH]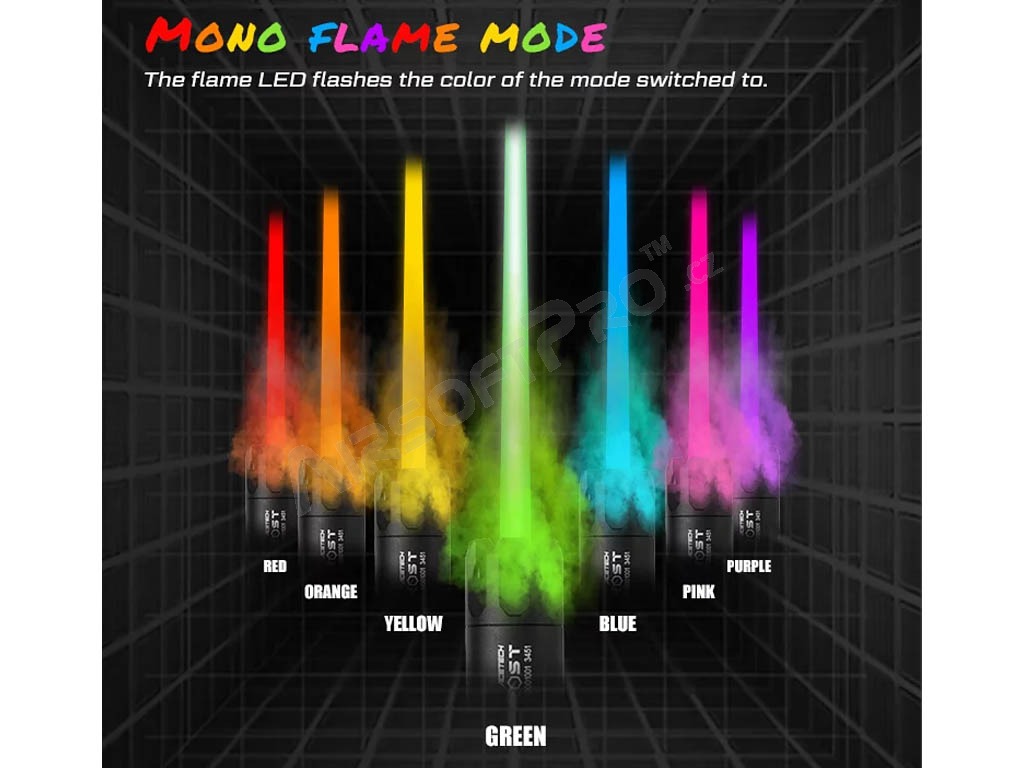 Bifrost Full Auto Tracer with multi-color flame mode - Black [ACETECH]
Bifrost Full Auto Tracer with multi-color flame mode - Black [ACETECH]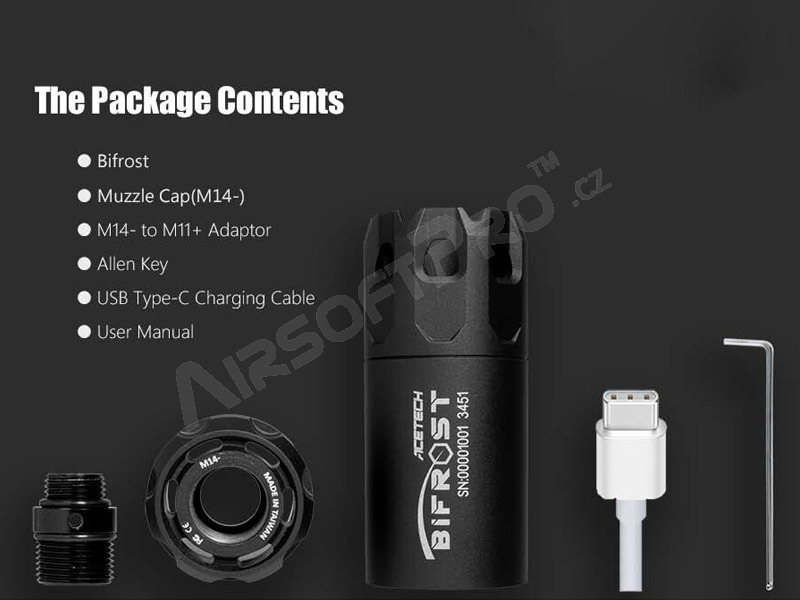 Bifrost Full Auto Tracer with multi-color flame mode - Black [ACETECH]
Description
Acetech's innovative BIFROST tracer silencer with multi-coloured flame effect.
The tracer supports green tracer BBs - see Related products below. The tracer lights up every BB that causes a fantastic effect during the flight at night/dark. It is visible throughout the flight trajectory and imitates tracer ammunition, called "traces".
The most interesting feature of the Bifrost, however, is the simulation of muzzle flash when fired with a multi-coloured flame effect. The flame effect depends on the volume of gas or fog around the muzzle, more volume makes better effect. There are 3 LEDs on the end of the silencer that illuminate the departing BB and gas around the barrel when fired. The effect is best seen when used on gas guns, when the residual gas after the shot is illuminated. The effect is also visible when used on electric weapons, although slightly dimmer. With Bifrost, you can also choose the colour and mode of the flame imitation. There are 2 tracer modes and a total of 11 flame imitation variations - from single colors, to RGB, Rainbow and Dynamic Rainbow modes.
TRACER MODES
STANDARD - each BB is illuminated and it is possible to use an flame imitation
SNIPER - every third BB is illuminated and the imitation flame is switched off to avoid revealing the shooter
TURN OFF - tracer mode is switched off and flame imitation can be used
MUZZLE FLAME MODES
MONO - flame imitation in the chosen colour (red, orange, yellow, green, blue, pink, purple)
RGB - flame imitation in RGB colour
RAINBOW - flame imitation in all colours creating a rainbow effect
DYNAMIC RAINBOW - flame imitation in dynamically changing colours (colour change every 0.5 seconds)
DEMO - Each flame mode is acivated for 5 shots and DYNAMIC RAINBOW mode is on for one round.
TURN OFF
BATTERY LIFE
Tracer + flame mode (up to 12 000 BBs per charge)
Flame mode only (up to 12 000 BBs per charge)
Tracer mode only (up to 24 000 BBs per charge)
Bifrost has intelligent energy management - after 5 minutes of inactivity, it automatically switches to sleep mode. To wake up, just shake the silencer. It can also, of course, be switched off completely using the power button.
The tracer unit is fixed in an aluminium housing with a matt anodised surface. It is powered by an internal Li-Ion battery which, fully charged, will illuminate up to 24,000 or 12,000 BBs in tracer or flame mode only. To charge the battery, you need to unscrew the end of the silencer and connect the USB-C cable (included). You will also find a power button under the end cap.
The status of the silencer (on, battery voltage, self-test result) is indicated by a coloured flashing LED.
The package includes a reduction from M14(-) to M11(+) thread, so you can use the suppressor on any airsoft gun that has a removable flash hider. An Allen key is also included for easier tightening/loosening of the adaptor.
SPECIFICATIONS
Built-in Li-Ion battery - fully charged battery would last over 24 000 rounds in mode tracer or flame only
Charging time 2,5 hours
Sustained ROF up to 35 RPS (round per second)
Supports green tracer BBs
Auto sleep mode after 5 min of inactivity
Low battery indicator (green/orange/red)
Reverse M14 thread
Package contains : M14 CCW(-) to M11 CW(+) adaptor, MicroUSB charging cable, allen key
Dimension : diameter 30 mm, length 81 mm
Weight : 61 g without adaptor
---
Acetk Corp Ltd. (Acetech) is the Airsoft accessory manufacturer who specializes in airsoft tracer units, chronographs, airsoft gun controlling system and auto target system. Acetech exports products worldwide. Acetech produces the brightest various tracer units for different uses. Acetech tracer units are designed for airsoft guns, pistols and even to enable users to install them in their silencers, which could turn their silencers to be unique tracer units.