Airsoft rifle Amoeba AM-014 - black
Availability:
Not in stock
Description
One of the latest M4 Amoeba Airsoft series with many interesting technical and design solutions.
The replica's receiver, buttstock and sights was made of strengthened nylon. Quality is so good that it can hardly be recognized whether it is plastic or metal. Metal was used to produced the outer barrel, the flash hider (14mm CW thread), the stock tube and some small pieces. The pistol grip is made of plastic, covered with scrabrous non-slip texture which improves grip and comfort. Interesting is the magazine release, which is enlarged - you will appreciate it by magazine quick-change. By pulling the double-sided bolt lever, the dust cap is opened and allowing access to the hop-up system control.
The replica has the tube-buttstock and it is suitable for small Li-Po 7,4V battery (recommended voltage is max 9,6V, higher battery voltage can cause damage to internal parts). It is adjustable to four position for a better fit. RIS rail on the upper side of the replica is devided, and another RIS rail is on the bottom side.
Hi-cap magazine for 300BB. Its interest is the PMAG pad for rapid pulling out of the magazine pouch, non-slip texture on the surface of the magazine and visually appealing transparent gaps on shells.
ECFS gearbox
Internally, this replica is among the most advanced airsoft weapons on the market. Metal gearbox with 8mm bearings and reinforced parts, quick-change spring (no need to disassamble the weapon, just remove the stock tube), powerful engine and last but not least the Electronic Firing Control System (EFCS). It is an electronic unit with MOSFET that prevents contact tanning, protects the battery, and makes it easy to set your shooting mode (Safe / Semi / 3rd burst / Auto). The EFCS setup is done by the Ares electronic programmer, which is found in "Related products" below.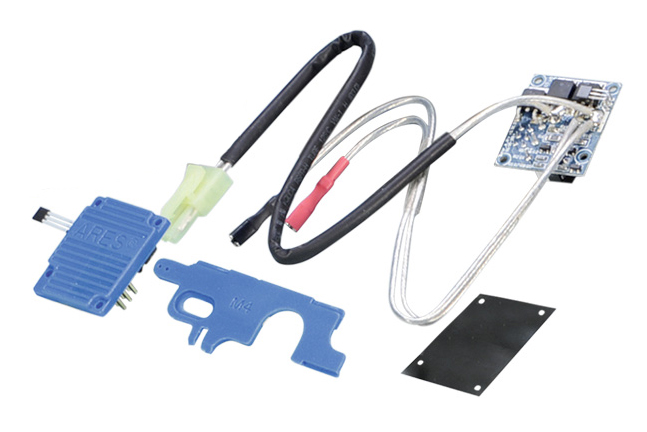 ---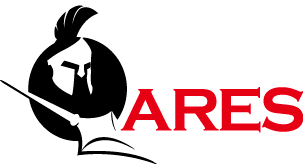 ARES
Manufacturer of premium Airsoft guns in the largest variety of models and styles. Based in Hong Kong, ARES has distribution partners globally including America, Europe, and Asia.
Named after the God of War, ARES strives to offer the largest selection of high quality Airsoft guns. Not a clone company, ARES products go through their own R&D process to come up with their own gearbox designs. ARES is also the pioneer for many models that did not previously exist in the Airsoft market, including the licensed TAVOR21, and many other unique models. ARES guns all shoot around 360-380fps and are designed to be upgradeable easily for maximum performance.
Parameters
General info
| | |
| --- | --- |
| Shooting mode | Semi and full auto |
| Operation | Electric (AEG) |
Estimated performance (+/- 10%)
| | |
| --- | --- |
| BB energy (J) | 1,6 |
| Velocity (m/s) | 125 |
| Velocity (fps) | 410 |
| Theoretical range (m) | 56 |
| Appropriate balls weight | |
Outer specs.
| | |
| --- | --- |
| Length (mm) | 660/730 |
| Weight (g) | 2280 |
| Material | Polymer body with small metal parts |
| Gunstock | Plastic (or fiber), retractable |
| Foregrip | Metal, RIS mount |
Inner specs.
| | |
| --- | --- |
| Inner barrel length | 290 mm |
| Gearbox material | Metal alloy |
| Bearings | 8mm metal |
| Gears | metal alloy |
| Piston | nylon with a full metal teeth |
| Piston head | Nylon head |
| Hop-up | Plastic adjustable Hop-Up |
Magazine
| | |
| --- | --- |
| Capacity | 300 |
| Type of the magazine | High capacity winding |
Battery
| | |
| --- | --- |
| Suitable battery | |
| Connector | Mini Tamiya |
| Battery location | In stock |
Package contents
| | |
| --- | --- |
| Battery | No |
| Charger | No |
| Magazine | Yes |