Airsoft rifle M4 R.I.S EC-308 ADVANCED series (490 FPS)
Description
The M4 Carbine is a 5.56×45mm NATO, air-cooled, gas-operated, direct impingement, magazine-fed, select fire carbine. The M4 is extensively used by the United States Armed Forces and is largely replacing the M16 rifle in United States Army and United States Marine Corps (USMC) combat units as the primary infantry weapon and service rifle. The M4 has semi-automatic and three-round burst firing modes (like the M16A2 and M16A4), while the M4A1 has semi-automatic and fully automatic firing modes (like the M16A1 and M16A3).
Airsoft rifle E&C M4 R.I.S ADVANCED series is full metal automatic electric gun (AEG). The gun isn't only for beginners, but also for advanced players. E&C is a great choice because they offer a modern look, good price and perfect performance.

DESIGN
The most parts of this weapon is made of metal, just like the real model. The stock tube, receiver, sights, the outer barrel with the barrel extension and the flash hider, and hand guard are made of metal. RIS rails are located on the hand guard and upper receiver (4x 15,5 cm on the hand guard and 1x 12,5 cm on the receiver) for attaching accessories such as scope, red dot, grip, flash light, laser, grenade launcher, etc. There is also a metal sling mount on the forearm. The second point of sling attachment is the steel mount on the stock tube. Grip and retractable 5-position stock are made of quality plastic. The grip has a roughening for a better and more secure grip, the butt pad is made of rubber. The receiver and the hand guard are black anodized for good corrosion protection. It is also provided with a quality coating with abrasion resistance.
Pulling the double-sided charging handle exposes the rotating ring of the hop-up chamber (ProWin style). The imitation of the bolt plate is locked, so the adjustment of the chamber is very convenient. The bolt catch works as well, placed on the left side as original. There is also a classic selector lever on this side. The magazine release is one-sided, on the right side of the receiver. The type of weapon and a unique serial number are engraved on the trigger guard.
In the box, in addition to the weapon, you will also find one metal hi-cap magazine for 300 BBs and two springs M90 and M130 for FREE. We recommend choosing the same brands of spare magazines, ie E&C. However, the replica is also compatible with brands CYMA, TopArms, etc. The charger and battery are not included. See the Related products below for compatible batteries, spare magazines or chargers.
---
UPGRADE ADVANCED SERIES
This Advanced series weapon is designed by AirsoftPro and manufactured by E&C. The muzzle velocity is above 490 FPS (150 m/s) without the need to perform complex tuning or upgrades. When unpacked from the box, the weapon has the BB velocity 430 FPS (130 m/s). But as soon as you replace the spring (thanks to the quick-change gearbox simply via the stock tube) with the M130, you immediately get a weapon with a great muzzle velocity of 490 FPS (150 m/s). The internal parts of the weapon are dimensioned to handle this configuration for a long time and without any problems. The weapon is perfectly balanced and assembled - thanks to this such performance can be achieved even with the M130 spring. When testing the weapon, we measured an average of 488 FPS (148 m/s).
The gun is equipped with a E.T.U. (Electronic Trigger Unit) with a microswitch, mosfet, active brake, magnetic sensor and allows you to set 5 different shooting modes. The setting is made using the selector lever and trigger.
Parts in Advanced series:
E.T.U. (Electronic Trigger Unit) with microswitch
Low-resistance wiring
Metal nozzle with double sealing
Metal cylinder head with double sealing
Polished stainless steel cylinder
Metal piston head with bearing
Polymer piston with hardened steel teeth
Stainless steel QD spring guide with bearing
Metal QD gearbox (with quick change spring)
Reinforced 18:1 gear set
8 mm bearing
Rotary Hop-Up chamber ProWin style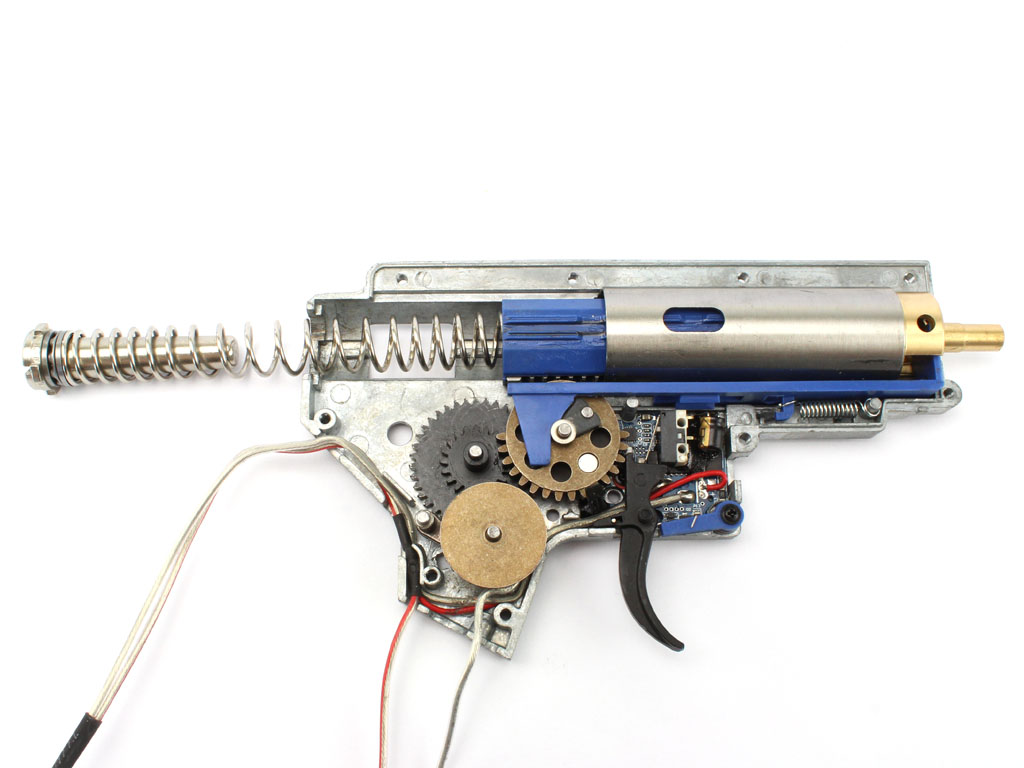 We recommend 7.4V - 11.1V Li-Ion / Li-Pol batteries for power supply. Suitable ammunition are 0.28 g - 0.30 g BBs.
---
PACKAGE CONTENTS
Airsoft rifle M4 R.I.S ADVANCED series
Metal hi-cap magazine (300 rounds)
M90 and M130 springs
User manual and instructions for E.T.U.
---
E&C ADVANTAGES

QUALITY
All our replicas have full metal body. Inside you find i.a. above-standard 8 mm ball bearing, piston with full metal teeth, rotatory hop-up chamber, low resistance wiring and strong motor.

PERFORMANCE
Muzzle velocity is up to 490 FPS - best for mid and long range shooting.

UNIQUE
There is no infinity amount of identical airsoft guns. Each our replica has your own unique serial number. We offer more then 30 different models.

RELIABILITY
E&C replicas are known for their low failure rate. Failure rate is less then 1,5% - that is several times lower than the average and gives you best value for your money.
---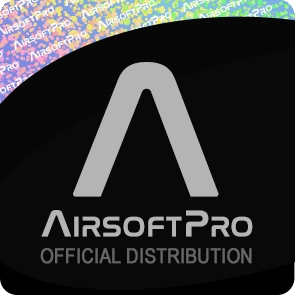 Since 2018 AirsoftPro.cz became the exclusive importer of the E&C brand for the Czech Republic.
A weapon purchased from us or from one of our business partners can be found at https://airsoftpro.cz/en/original-ec. Every gun has a unique serial number on the trigger guard. You can check whether your weapon originates from the official AirsoftPro distribution.
---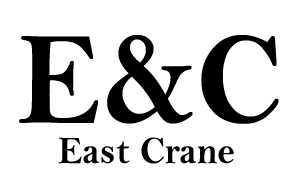 East Crane (HongKong) co., LTD is a professional developer tooling design company for more than twenty years experience. With the ever-growing reputation and many years of experience, East Crane decided to create its own brand "E&C". The company's motto is the highest possible quality in an efficient production process and with the support of its fans. E&C airsoft products are known for their reliability, durability and excellent price / performance ratio.
Parameters
General info
| | |
| --- | --- |
| Shooting mode | Semi and full auto |
| Operation | Electric (AEG) |
Estimated performance (+/- 10%)
| | |
| --- | --- |
| BB energy (J) | 2,3 |
| Velocity (m/s) | 150 |
| Velocity (fps) | 492 |
| Theoretical range (m) | 68 |
| Appropriate balls weight | |
Outer specs.
| | |
| --- | --- |
| Length (mm) | 800 / 885 |
| Weight (g) | 2880 |
| Material | Metal alloy |
| Gunstock | Plastic (or fiber), retractable |
| Foregrip | Metal, RIS mount |
Inner specs.
| | |
| --- | --- |
| Inner barrel length | ~363 mm |
| Gearbox material | Metal alloy |
| Bearings | 8mm metal |
| Gears | metal alloy |
| Piston | nylon with a full metal teeth |
| Piston head | Nylon head |
| Hop-up | Plastic adjustable Hop-Up |
Magazine
| | |
| --- | --- |
| Capacity | 300 |
| Type of the magazine | High capacity winding |
Battery
| | |
| --- | --- |
| Suitable battery | |
| Connector | Mini Tamiya |
| Battery location | In stock |
Package contents
| | |
| --- | --- |
| Battery | No |
| Charger | No |
| Magazine | Yes |