Airsoft submachine gun Mini UZI, CO2 Blowback - black
Description
This airsoft submachine gun is manufactured by the Taiwanese company KWC, one of the best airsoft manufacturers. It is a CO2 powerful replica with a functional BlowBack system.
Real UZI submachine gun comes from Israel. The first prototype was developed at the end of the 1940s. Its designer was Israeli officer Uziel Gal, after which the machine is named. In the 1980s, two smaller models were developed, Mini-Uzi and Micro-Uzi. It was licensed in Belgium and Germany. It is still produced in Israel, used by the Israeli army, and is a favorite weapon of many terrorist groups. It is often confused with the American Ingram MAC-10 and, in general, it is possible to say that among the laymen is UZI "Uzík", "Uzina" used for any gun with a gun placed in the pistol handle. It is based on the Czechoslovak gun model 24 (source wikipedia)
The offered airsoft weapon is for classic 6mm BBs. When you remove it from the box, you will be surprised with the decent weight of 2.2kg and will emphasize the feeling of realism. Combines plastic body with metal parts. Metal is for example a bolt cover, stock, barrel, magazine etc. Moving parts are as functional as the real gun. Selector switch, magazine release, hand safety..etc.
A classic CO2 12g bottle is located in the magazine, closed with a cap and tightened with a hex key. Surely you will be pleased with the spare cap and key in the package. The magazine has a capacity of 38 BBs, and because of the higher performance we recommend 0.25-0.28g BBs.
When you insert magazine and pull back the bolt, select firing mode and just press trigger. Weapon is relatively noisy and very strong "kick". Among airsoft weapons with blowback, the kickback force really outweighs the standard. This maximizes the shooting experience.
HopUp is adjustable by rotating the matrix barrel. See a clear picture guide.
Parameters
General info
| | |
| --- | --- |
| Shooting mode | Semi and full auto |
| Operation | Gas with blowback (GBB) |
Estimated performance (+/- 10%)
| | |
| --- | --- |
| BB energy (J) | 1,4 |
| Power source | CO2 capsule |
| Velocity (m/s) | 120 |
| Velocity (fps) | 394 |
| Theoretical range (m) | 54 |
| Appropriate balls weight | |
Outer specs.
| | |
| --- | --- |
| Length (mm) | 360/615 |
| Weight (g) | 2200 |
| Material | Metal slide, plastic frame |
| Gunstock | Metal, folding |
| Foregrip | Plastic or fiber |
Inner specs.
| | |
| --- | --- |
| Hop-up | Metal adjustable Hop-Up |
Magazine
| | |
| --- | --- |
| Capacity | 38 |
| Type of the magazine | Low capacity spring |
Package contents
| | |
| --- | --- |
| Battery | No |
| Charger | No |
| Magazine | Yes |
SKU: 713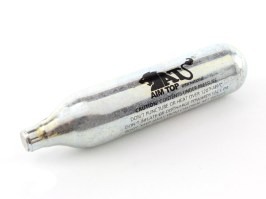 SKU: 4018