Complete cylinder set for MB06,13 (SR-2)
Description
Complete upgrade cylinder set for sniper rifles increasing the performance and durability of the weapon. Suitable only for Well MB-06 (SR-2 Sniper) and Well MB13.
SET CONTAINS:
---
Steel durable cylinder
Required in case of any upgrade. The stock cylinder is made of aluminium and weak. It's easy to damage it with stronger upgrade spring. Our AirsoftPro steel cylinder was sucessfully tested on the strongest springs. Made on CNC machines. The steel seamless tube and the steel mandrel of the bolt handle are firmly welded in four places. The weld was polished to make the movement smooth. The set is chemically blackened - burnished, as protection against corrosion. Nevertheless, it is necessary to lubricate as a real weapon.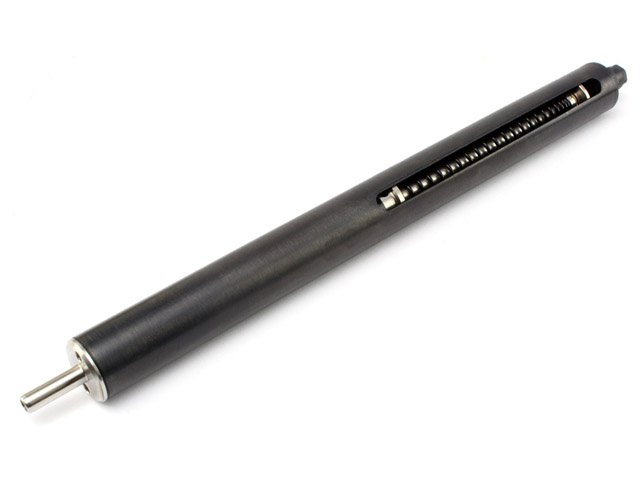 ---
Steel spring guide with bearing
It's made of two screwed parts with the thrust bearing in the middle. The outer diameter is 9 mm and it's designed only for the upgrade springs. The advantage of this diameter is the proper guidance of the spring during the sping compression. Doesn`t include inner hole.
Stainless cylinder head
with the durable rubber pad, that protects your cylinder. It significantly dampens shocks when the piston hits the cylinder head (during a shot) and thus contributes to a longer lifetime of the set. The body of the cylinder head is made of high quality stainless steel on CNC machines.
---
Hybrid piston
It's made of 3 kinds metal. Aluminium piston body provides a great reduction for the weight, POM (polyacetal) ring in the middle provides minimum friction against the cylinder and the stainless steel rear part ensures excellent wear protection against the sear. Inner diameter is 13,3 mm so you can use strong springs from our offer. This new generation piston has improoved critical parts and extra rubber flat pad at the front for silent action.
Springs
are offered in range from M130 to M190. You can simply select it before you add the set into shopping cart.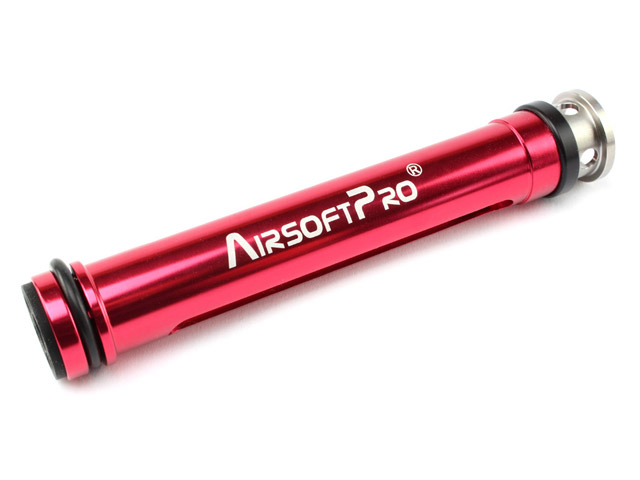 ---
COMPLETE CYLINDER SET is suitable for the these airsoft sniper rifles:
Well MB-06 (SR-2 Sniper)
Well MB13
---
AirsoftPro
We are in airsoft business since year 2007. We listen customer's needs and try to bring goods with reasonable prices. We gather informations from 15 years of experiences with airsoft. Our AirsoftPro brand spare and upgrade parts are well known in Europe airsoft market.
Currently our shop is the most popular aisoft shop in the Czech Republic with the excellent feedback. See www.heureka.cz. In 2016 we run new modern eshop and working on warehouse logistic improvements to faster orders packing.