Vehicle Ops goggle with ballistic resistance, black - clear, gray
Availability:
Not in stock
Description
The ESS Vehicle Ops goggles are designed for soldiers who are exposed to harsh conditions. These glasses received the Army's Combat Eye Protection (CEP) Solicitation award.
The Vehicle Ops™ features exceptional fog resistance, particle filtration, and comfort. With its roomy frame, the Vehicle Ops™ is designed to fit over most eyeglasses.
The Vehicle Ops™ features a full-perimeter Hi-Flow™ ventilation and filtration system that ventilates humid air while filtering out airborne particles, air blasts and splashes. The open-cell face padding provides superior, long-lasting comfort.
All Striker™ Series lenses provide 100% UVA/UVB protection and distortion-free optical clarity.
Kit Includes:
One black ESS Vehicle Ops™ goggle with a 2.6mm polycarbonate Clear Lens installed
One 2.6mm polycarbonate Smoke Gray replacement lens
One black anti-reflective SpeedSleeve™ goggle cover
One White flannel lens sleeve
Safety Standards>
EN 166 (B): 2001
ANSI Z87.1 - 2003
ANSI Z87.1 - 2010
MIL-PRF-32432 MCEP
MIL-PRF-32432 MCEP (V0)
MIL-DTL-43511D (V0)
STANAG 2920
---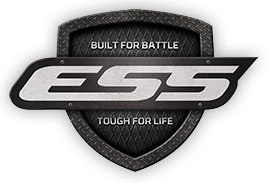 ESS
Established in 1998, ESS (Eye Safety Systems, Inc.) creates advanced eye protection systems for military, law enforcement, fire/rescue and shooting sport markets. ESS is the only authorized eyewear provider to the United States Marine Corps, is a leading supplier to all other branches of the U.S. DoD, and is sold in over 100 countries. ESS proudly stands behind its products with unparalleled sustainment programs and industry-leading customer service.
ESS is headquartered in Hailey, Idaho, and its ISO 9001:2008 certified U.S. factory is located in Foothill Ranch, California. ESS is a wholly-owned subsidiary of Oakley, Inc.