Land Ops goggle with ballistic resistance, FG - clear, gray
Description
One of the only goggles authorized by the U.S. Army for use over prescription eyewear, the ESS Land Ops™ is a high-performance goggle system for highly-active ground troops.
The Land Ops™ features exceptional fog resistance, particle filtration, and comfort. With its roomy frame, the Land Ops™ is designed to fit over most eyeglasses.
The Land Ops™ features a full-perimeter Hi-Flow™ ventilation and filtration system that ventilates humid air while filtering out airborne particles, air blasts and splashes. The open-cell face padding provides superior, long-lasting comfort.
All Striker™ Series lenses provide 100% UVA/UVB protection and distortion-free optical clarity.
Kit Includes:
One Foliage Green ESS Land Ops™ goggle with a 2.6mm polycarbonate Clear Lens installed
One 2.6mm polycarbonate Smoke Gray replacement lens
One Foliage Green anti-reflective SpeedSleeve™ goggle cover
One White flannel lens sleeve
Safety Standards>
EN 166 (B): 2001
ANSI Z87.1 - 2003
ANSI Z87.1 - 2010
MIL-PRF-32432 MCEP
MIL-PRF-32432 MCEP (V0)
MIL-DTL-43511D (V0)
STANAG 2920
---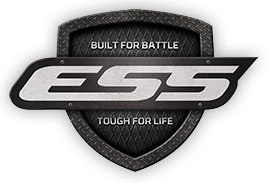 ESS
Established in 1998, ESS (Eye Safety Systems, Inc.) creates advanced eye protection systems for military, law enforcement, fire/rescue and shooting sport markets. ESS is the only authorized eyewear provider to the United States Marine Corps, is a leading supplier to all other branches of the U.S. DoD, and is sold in over 100 countries. ESS proudly stands behind its products with unparalleled sustainment programs and industry-leading customer service.
ESS is headquartered in Hailey, Idaho, and its ISO 9001:2008 certified U.S. factory is located in Foothill Ranch, California. ESS is a wholly-owned subsidiary of Oakley, Inc.