Glasses Hi-def for ESS CrossBlade with ballistic resistance - gray
Description
ESS Modular Technology™ allows all lenses to be quickly and inexpensively interchanged. Built from extra-thick, 2.4mm high-impact polycarbonate.
The ESS Crossblade™ Eyeshield features advanced ClearZone™ Anti-fog coatings plus two different sized lens and nosepiece options to allow for customizable modular fit. Users can choose between a Standard lens and nosepiece or NARO lens and NARO nosepiece. With the modular system, the Crossblade™ can be set specifically to fit the end user's facial structure. Modular Fit equals performance and comfort.
The Crossblade's Tri-Tech Fit™ frame features a snug fit with zero pressure points. Advanced ClearZone™ Dual Flow Coated lenses are engineered to eliminate fog inside and prevent scratches outside. Distortion-free ESSOPTICS™ keep your vision razor sharp and the DedBolt™ Lens Lock pivot allows rapid lens exchanges.
NOTE:
As part of the ESS Cross-Series™ eyeshield platform, all Crossblade™ lenses are compatible and interchangeable with the ESS Crossbow®, Crosshair™ and Suppressor™ frames. Crossblade™ Standard and Crossblade™ NARO nosepieces are NOT interchangeable with the other Cross-Series products.
ESS Crossblade™ is compliant with:
U.S. Federal OSHA
ANSI Z87.1-2015
CE EN 166
MIL-PRF-32432
Package includes:
Standard - Hi-Def smoke grey anti-fog replacement lens for Crossblade™ Series eyeshields
Standard Crossblade™ nosepiece
---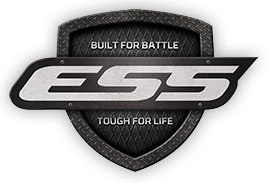 ESS
Established in 1998, ESS (Eye Safety Systems, Inc.) creates advanced eye protection systems for military, law enforcement, fire/rescue and shooting sport markets. ESS is the only authorized eyewear provider to the United States Marine Corps, is a leading supplier to all other branches of the U.S. DoD, and is sold in over 100 countries. ESS proudly stands behind its products with unparalleled sustainment programs and industry-leading customer service.
ESS is headquartered in Hailey, Idaho, and its ISO 9001:2008 certified U.S. factory is located in Foothill Ranch, California. ESS is a wholly-owned subsidiary of Oakley, Inc.