CrossBlade ONE glasses with ballistic resistance - clear
Availability:
Not in stock
Description
The new ESS CrossbladeTM Eyeshield features advanced ClearZoneTM Anti-fog coatings plus two different sized lens and nosepiece options to allow for customizable modular fit. Users can choose between a Standard lens and nosepiece or NARO lens and NARO nosepiece. With the modular system, the CrossbladeTM can be set specifically to fit the end user's facial structure. Modular Fit equals performance and comfort.
The Crossblade's Tri-Tech FitTM frame features a snug fit with zero pressure points. Advanced ClearZoneTM Dual Flow Coated lenses are engineered to eliminate fog inside and prevent scratches outside. Distortion-free ESSOPTICSTM keep your vision razor sharp and the DedBoltTM Lens Lock pivot allows for rapid lens exchanges.
NOTE:
As part of the ESS Cross-SeriesTM eyeshield platform, all CrossbladeTM lenses are compatible and interchangeable with the ESS Crossbow®, CrosshairTM and SuppressorTM frames. CrossbladeTM Standard and CrossbladeTM NARO nosepieces are NOT interchangeable with the other Cross-Series products.
BALLISTIC PROTECTION STANDARDS
US MIL SPEC MIL-PRF-32432
ANSI Z87.1 – 2015
CE EN166
OSHA
PACKAGE CONTAINS
Black CrossBladeTM frame
Clear CrossBladeTM lens (standard)
Nosepiece (standard)
Snap-on elastic retention strap
Microfiber pouch
ESS CrossbladeTM NARO lenses & nosepieces sold separately.
---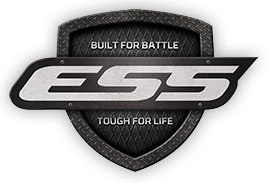 ESS
Established in 1998, ESS (Eye Safety Systems, Inc.) creates advanced eye protection systems for military, law enforcement, fire/rescue and shooting sport markets. ESS is the only authorized eyewear provider to the United States Marine Corps, is a leading supplier to all other branches of the U.S. DoD, and is sold in over 100 countries. ESS proudly stands behind its products with unparalleled sustainment programs and industry-leading customer service.
ESS is headquartered in Hailey, Idaho, and its ISO 9001:2008 certified U.S. factory is located in Foothill Ranch, California. ESS is a wholly-owned subsidiary of Oakley, Inc.
SKU: 7316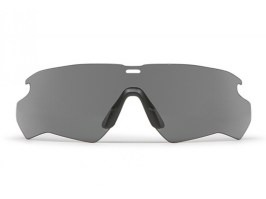 SKU: 7318