D3 Multi-purposed Bag, 10/18L - black
Description
This is a high quality and sophisticated backpack with three wearing options:
Classic with shoulder straps adjustable in width and height, fitted with a movable polish with 3D fabric. 4 straps for adding extra equipment.
On molle. The back of the backpack is covered with MOLLE binding and can be attached, for example, directly to the tactical vest.
Opening the buckle at the bottom of the shoulder and attaching it to the Chest rig - the chest belt (see photo gallery)
The front pocket is designed with a zipper system that allows two pockets to be opened twice. This makes it easy to increase the volume of the compact 10 liter pouch on a decent 18 liter. The zips are finished with a rubberised nylon cord for a more comfortable grip. The main pocket features elasticated loops, a small mesh pocket and a pocket for up to a 3-liter water bag with a hole for the outlet. The front pocket includes a small keyhole and a rubber grip for example on the magazine or small parts. The front part of the backpack is a velcro fastener for placing patches. One EmersonGear scallop is in the package.
Specs:
weight 0.7 kg
size 40cm x 23cm x 5-20cm
material is high quality Cordura 500D nylon (denier-unit for length density)
volume 10-18 liters
---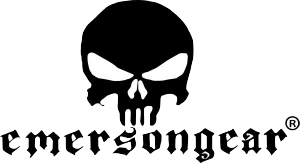 EmersonGear™
produce high quality tactical gear and accessories since 2002. About 200 employees supply equipment not only to the civilian but also to the law enforcement. EmersonGear products are characterized by quality workmanship and materials. Uses original licensed fabrics (for example, Multicam), Teflon impregnation protection, YKK top zippers, etc. Our company is the exclusive importer of EmersonGear products to the Czech Republic.