Airsoft pistol Colt 25 (CT25) - fullmetal, blowback, black [WE]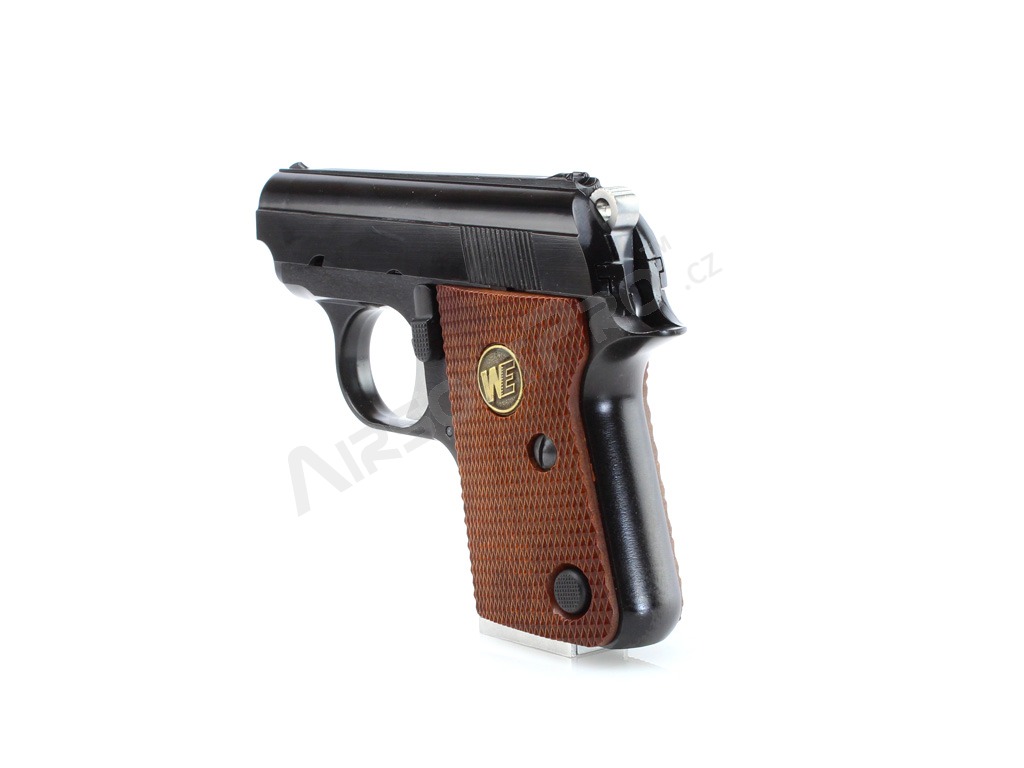 Airsoft pistol Colt 25 (CT25) - fullmetal, blowback, black [WE]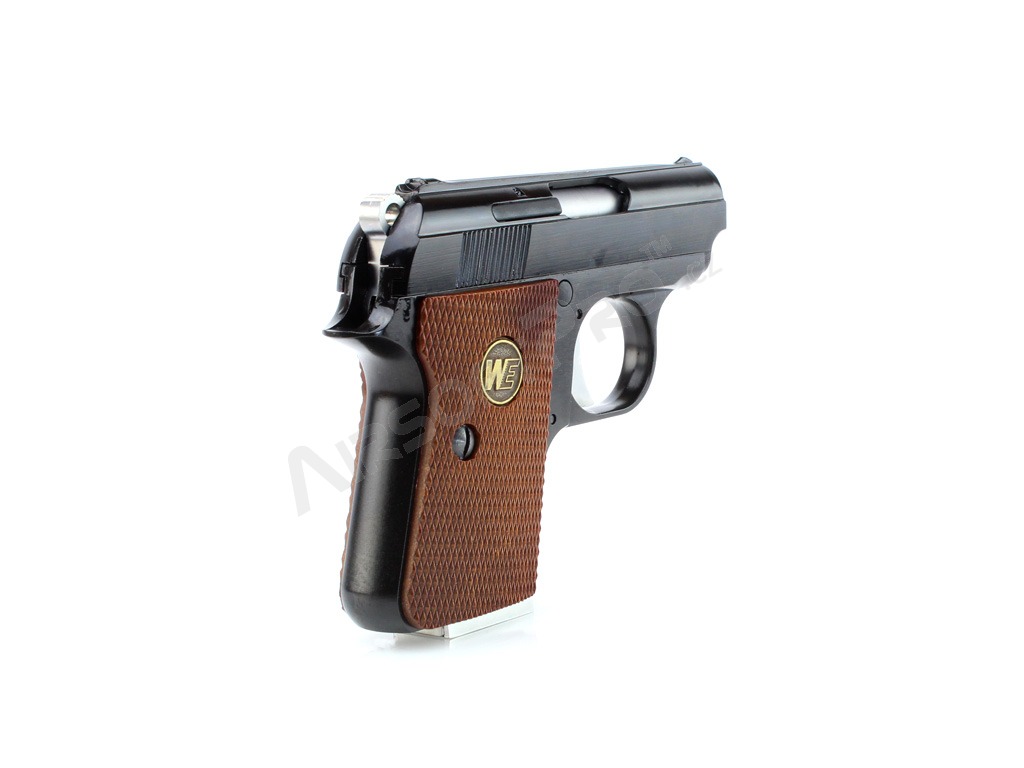 Airsoft pistol Colt 25 (CT25) - fullmetal, blowback, black [WE]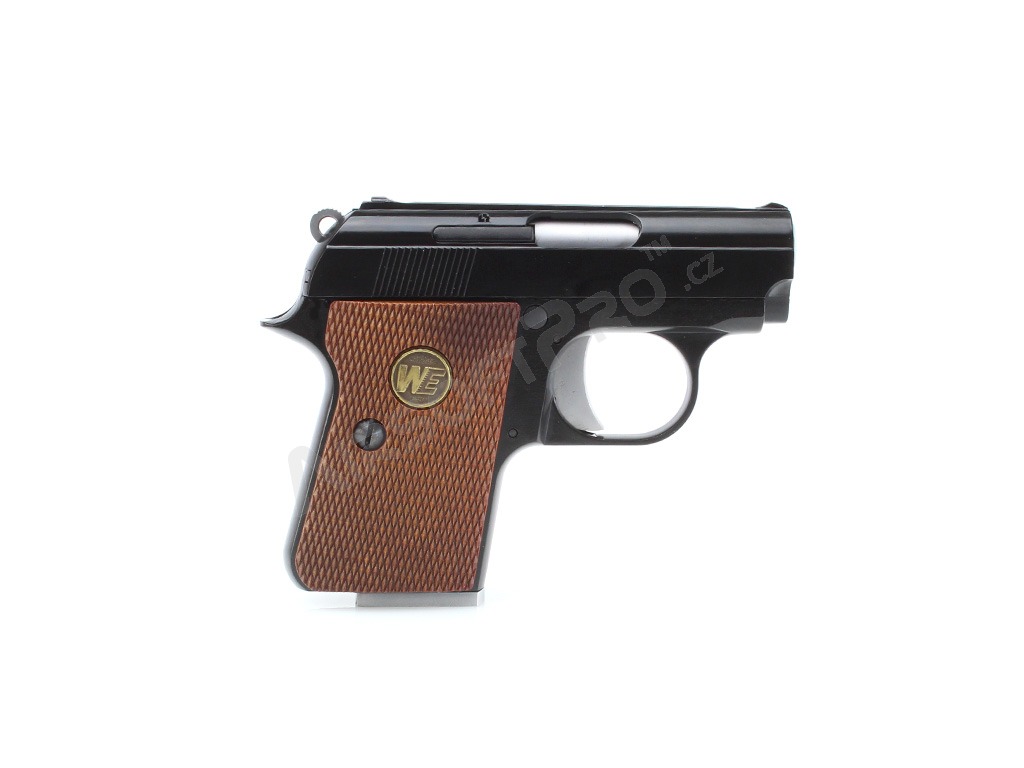 Airsoft pistol Colt 25 (CT25) - fullmetal, blowback, black [WE]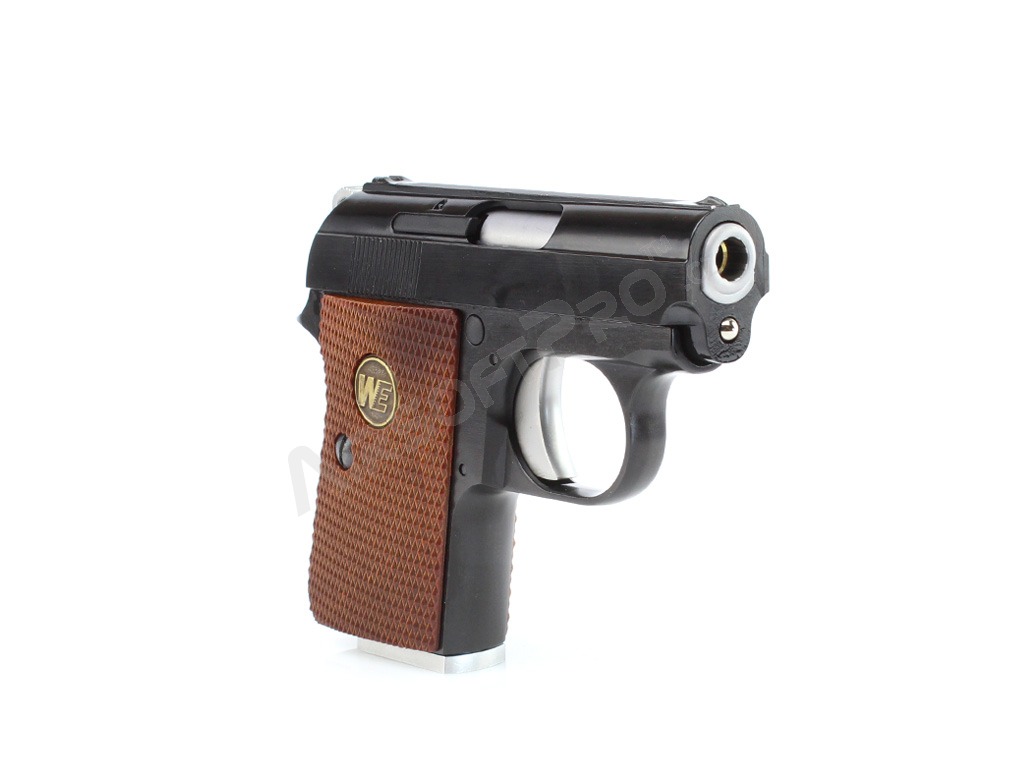 Airsoft pistol Colt 25 (CT25) - fullmetal, blowback, black [WE]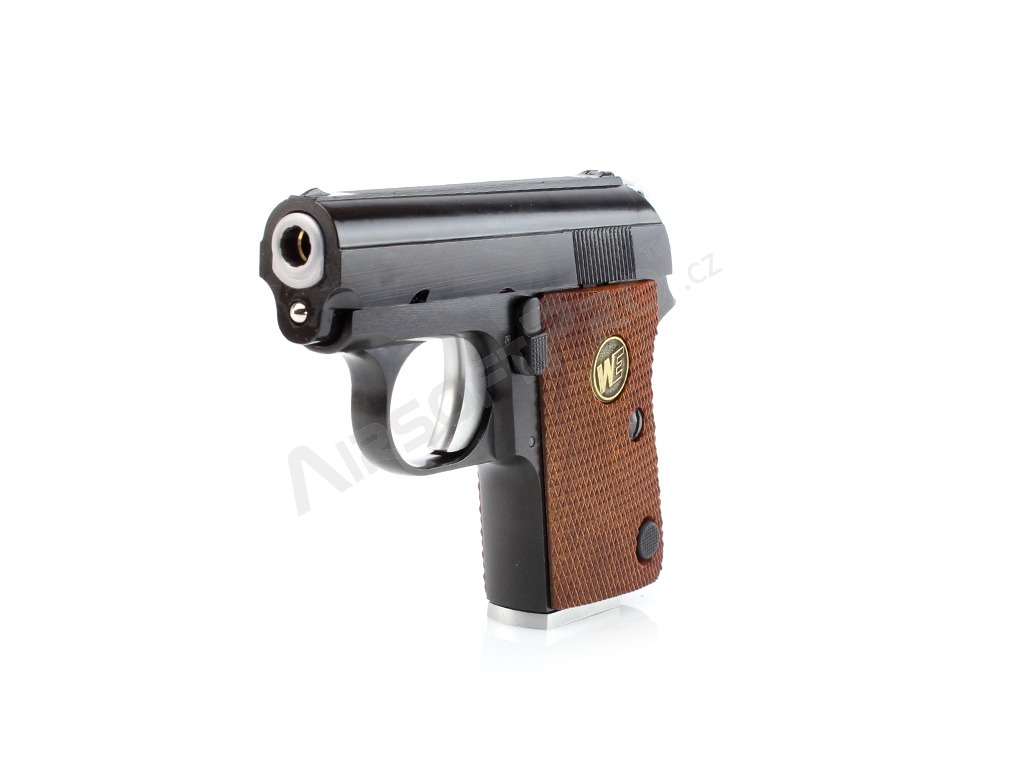 Airsoft pistol Colt 25 (CT25) - fullmetal, blowback, black [WE]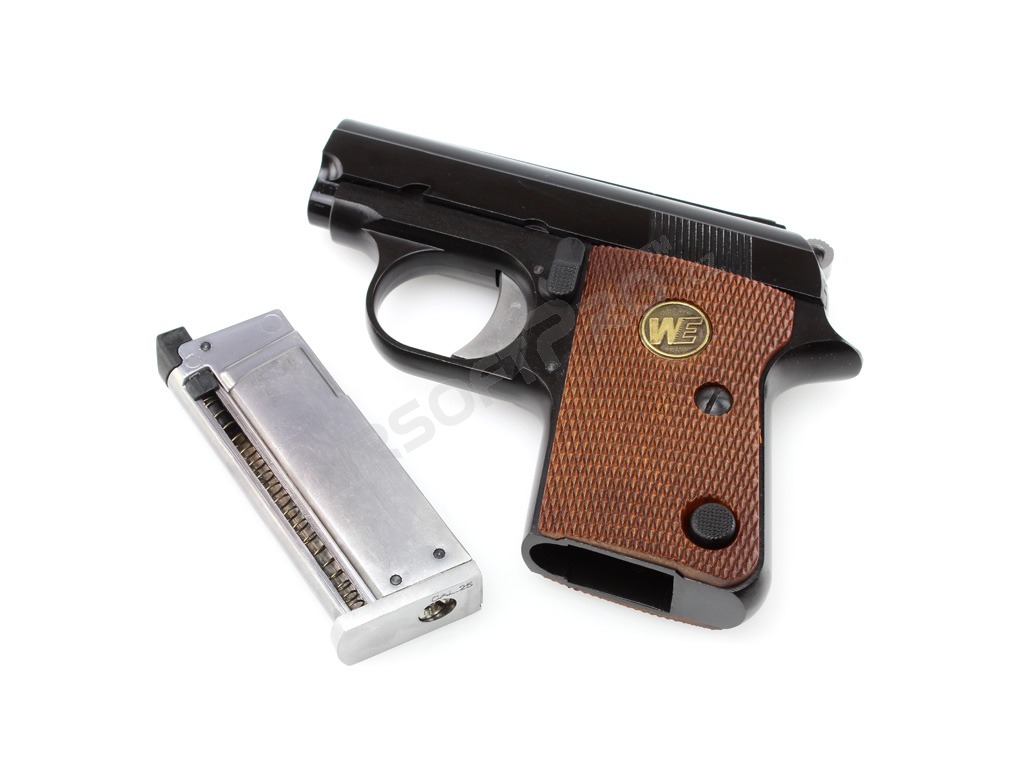 Airsoft pistol Colt 25 (CT25) - fullmetal, blowback, black [WE]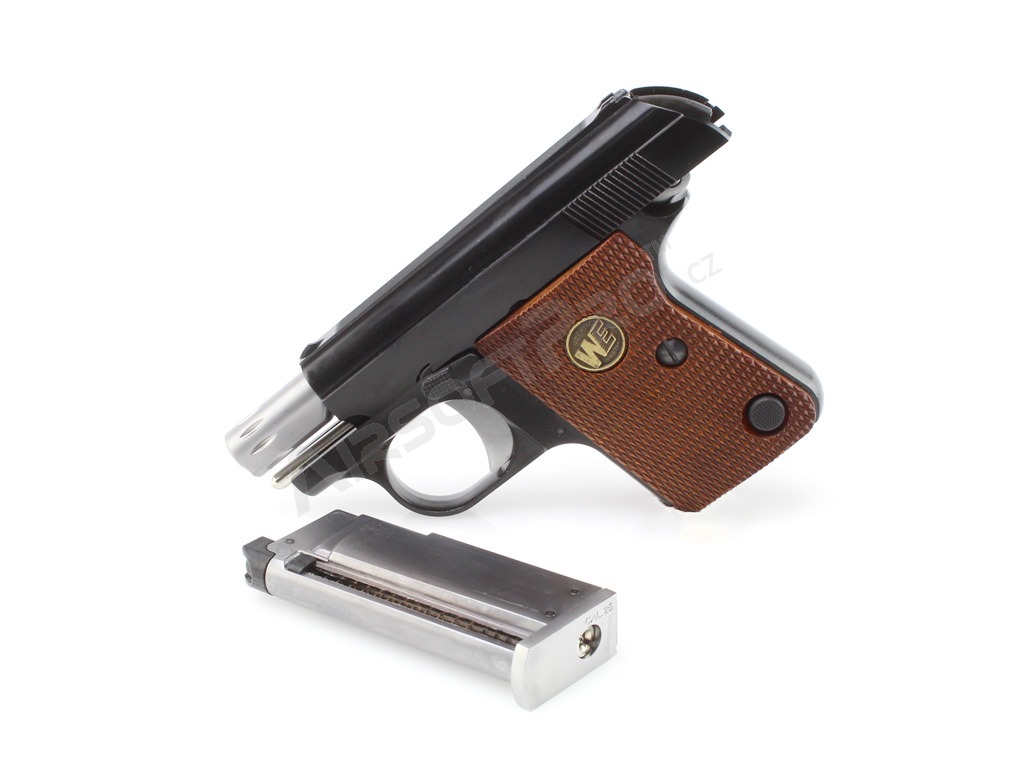 Airsoft pistol Colt 25 (CT25) - fullmetal, blowback, black [WE]
Airsoft pistol Colt 25 (CT25) - fullmetal, blowback, black
Availability
> 10 pieces ready to ship
Description
In the mid 20th century, a famous company peddled a line of vest-pocket pistols developed by a famous gunsmith. There was a mini pistol introduced in 1954. It was only 4.4 inches long and weighed 13 ounces unloaded.
The mini pistol came chambered in .25 ACP and featured with a six-round, single-stack magazine. Operating with simple blowback action, it came with a manual thumb safety and a push-button magazine catch at the bottom of the left grip panel for releasing the magazine. This mini pistol began producing in 1958 and built more than 40,000 copies before discontinuing the line in 1968, when the federal Gun Control Act halted the import of non-sporting firearms.
Offered pistol is a perfectly finished full metal replica of the Colt 1908 ACP. Weighing just 430g and 113mm long gas airsoft pistol is ideal for concealed carry . The weapon also has real strip down and functional moving parts.
The BBs are fired using compressed gas (green gas), which is simply filled into a magazine. Slides move back and forward during each shot. It is called blowback system. Same as real gun so it gives user the great feeling.
---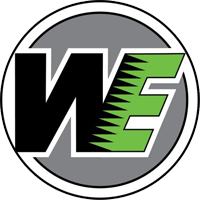 Since the early 80's, WE-Tech had been the premiere developer & manufacturer of steel molds for many major airsoft companies for more than 20 years. With the ever growing airsoft market comes WE-Tech reputation as being one of the foremost maker of steel molds, thus laying the foundation for our own excellent line of airsoft products today. In 2003, WE-Tech launched first line of gas blowback pistols and have never look back since. From being a professional steel mold manufacturer over 30 years ago to creating own line of full-metal airsoft pistols and rifles, the journey has been tough, but satisfying. The combination of experience, skills and the relentless pursuit of excellence is what define WE-Tech in the airsoft industry today.
Parameters
General info
| | |
| --- | --- |
| Shooting mode | Semi action |
| Operation | Gas with blowback (GBB) |
Estimated performance (+/- 10%)
| | |
| --- | --- |
| BB energy | 0,6 J |
| Power source | |
| Velocity | 76 m/s (249 FPS) |
| Theoretical range | 34 m |
| Appropriate BBs weight | |
Outer specifications
| | |
| --- | --- |
| Length | 113 mm |
| Weight | ~430 g |
| Body | Metal alloy |
| Silencer thread | M11x1 CW inner |
Inner specifications
| | |
| --- | --- |
| Inner barrel | ~51 mm x 6,08 mm |
| Hop-up | Metal, adjustable |
Magazine
| | |
| --- | --- |
| Magazine capacity | 7 |
| Type of the magazine | Low capacity spring |
Package contents
| | |
| --- | --- |
| Magazine | Yes |
| Battery | No |
| Charger | No |