Airsoft rifle CZ 805 BREN A1 DT, Mosfet - Grey
Availability:
Not in stock
Description
New version of CZ 805 BREN A1 with grey receiver, MOS-FET and magwell for M4 magazines.
The CZ 805 assault rifle features an aluminum alloy upper receiver and polymer lower.
Both the A1 and A2 versions of the CZ 805 assault rifle is fitted with an monolithic integral Picatinny rail on the top of receiver, and additional rails running on the sides and the bottom of the for-end. The side-folding buttstock, which is adjustable for length of pull, can be completely removed if maximum compactness is required. Removing the stock, held by one pin, requires no tools and provides access to battery compartment and the quick-change spring guide, allowing fast in-the-field spring changes to adjust to field regulations.
The CZ 805 assault rifle was first introduced to the public in 2009, as a possible future replacement for aged Sa. Vz. 58 assault rifles still in use by Czech armed forces. Early in 2010 the CZ 805 was selected as a next standard military rifle for Czech armed forces, to be manufactured by the famous Czech arms factory CZ-UB in the city of Uhersky Brod.
Features:
Direct access quick-change spring guide
Spring guide with ball bearing
Foldable stock that is adjustable for length
Ergonomic grip
High cap magazine
Removable front and rear folding sights
Charging handle and cheek-well can be relocated for left-handed shooters
Side-rails are removable if required
---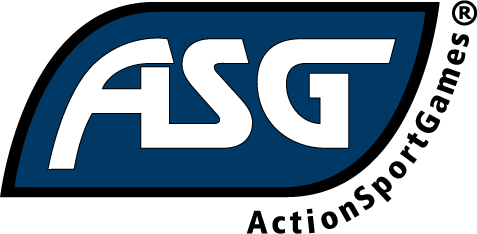 ActionSportGames (ASG)
is a worldwide leader in the business of replica firearms and accessories manufacturing – including Airsoft guns, Airguns, CO2 guns and firearms replicas. They specialize in 1:1 scale replica guns and accessories for fun, action, sports, entertainment and collection. Their assortment consists mainly of licensed models and exclusive subbrands of ActionSportGames® A/S. One of ASGs goals is to become the preferred supplier in the firearms replica business through worldwide license agreements, quality brands and premium service – before, during and after sales. Cooperation with CZ of the Czech Republic is a good example of how successful such a partnership can be, since most of CZs production firearms are now represented as both Airsoft guns and Airguns.
Parameters
General info
| | |
| --- | --- |
| Shooting mode | Semi and full auto |
| Operation | Electric (AEG) |
Estimated performance (+/- 10%)
| | |
| --- | --- |
| BB energy (J) | 1,7 |
| Velocity (m/s) | 130 |
| Velocity (fps) | 427 |
| Theoretical range (m) | 59 |
| Appropriate balls weight | |
Outer specs.
| | |
| --- | --- |
| Length (mm) | 792/847mm |
| Weight (g) | 3200 |
| Material | Upper metal alloy, lower polymer |
| Gunstock | Plastic (or fiber), folding |
| Foregrip | Metal, RIS mount |
Inner specs.
| | |
| --- | --- |
| Inner barrel length | 375 |
| Gearbox material | Metal alloy |
| Bearings | 7mm metal |
| Gears | metal alloy |
| Piston | nylon with 1 metal tooth |
| Piston head | Nylon head |
| Hop-up | Plastic adjustable Hop-Up |
Magazine
| | |
| --- | --- |
| Capacity | 360 |
| Type of the magazine | High capacity winding |
Battery
| | |
| --- | --- |
| Suitable battery | |
| Connector | Mini Tamiya |
| Battery location | Inside gun body |
Package contents
| | |
| --- | --- |
| Battery | No |
| Charger | No |
| Magazine | Yes |