Revolver 792W Webley Mk.VI .455 CO2 Battlefield finish
Availability:
Not in stock
Description
The Webley company have manufactured revolvers since early 1830's. The pinnacle of British handguns development was the Mk.VI Service revolver .455. This revolver was the preffered sidearm for British and Commonwealth troops during both World Wars because of its superior stopping power and fast reloading. Over 300 000 Mk.VIs were produced between 1914-1939 many still seeing active service well into the 1970's. This iconic revolver is recognised Worldwide as the Webley 455.
The revolver Webley Mk.VI by WG is a beautiful piece of british history with patina and original 1915 markings on top.
The replica is based on original blueprints, made of metal, only the grip is made of ABS plastic. The weight of 1,0 kg is almost the same as the original (1,1kg). In combination with the unique surface you are wondering if there is a truly historical piece in front of you. Only the sticker on the barrel (informing about the maximum energy) ruins this impression, but fortunately it can be easily pulled off. The sights are fixed, the same as original. The revolver has no hop-up system.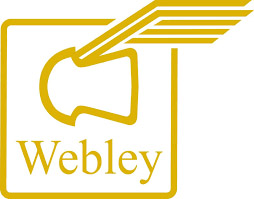 As mentioned the surface has Battlefield finish - the edges and exposed areas are "scuffed", so the revolver has a beautiful patina.
This revolver has so called top-break ejection system. This method of securing the frame and unique ratchet was patented in 1885 by H. Webley and J. Carpenter. To replace the cartridges, you need to "break" the weapon. Pressing the ratchet will release the barrel with the cylinder and you have an access to the cylinder with cartridges. Each cartridge carries one BB. The performance of these cartridges is reduced to 110 m/s, but you can use the ASG Schofield cartridges (SKU 7852). The mozzle velocity will increase then up to 140 m/s. A nice bonus is a functional cartridge ejector.
Webley is the double-action revolver as well as the original. You can just press the trigger (DA - double action, the cylinder rotates and the firing pin is released - fast firing mode) or cock the hammer and then press the trigger (SA - single action, best mode for accurate aiming).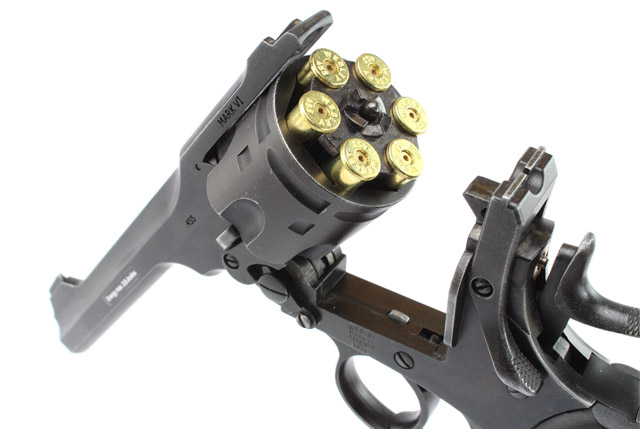 The revolver uses as a propellant a CO2 cartridge that is inserted into the grip. Just remove the left side of the grip, insert the CO2 cartridge and tighten the cartridge by screwing the lanyard swivel.
The package includes 6 cartridges and a copy of the original manual from 1937.
Parameters
General info
| | |
| --- | --- |
| Shooting mode | Semi action |
| Operation | Gas (no Blowback) |
Estimated performance (+/- 10%)
| | |
| --- | --- |
| BB energy (J) | 1,2 |
| Power source | CO2 capsule |
| Velocity (m/s) | 110 |
| Velocity (fps) | 361 |
| Theoretical range (m) | 50 |
| Appropriate balls weight | |
Outer specs.
| | |
| --- | --- |
| Length (mm) | 286 |
| Weight (g) | 1100 |
| Material | Metal alloy |
Inner specs.
Magazine
| | |
| --- | --- |
| Capacity | 6 |
| Type of the magazine | Low capacity spring |
Package contents
| | |
| --- | --- |
| Battery | No |
| Charger | No |
| Magazine | Yes |