Airsoft sniper U.S. Socom M24 Military - FDE (SW-04)
Description
The M24 Sniper Weapon System (SWS) is the military and police version of the Remington Model 700 rifle, M24 being the model name assigned by the United States Army after adoption as their standard sniper rifle in 1988. The M24 is referred to as a "weapon system" because it consists of not only a rifle, but also a detachable telescopic sight and other accessories.
High performance air cocking bolt action airsoft sniper rifle based on APS2 mechanism with modification (APS2 System Trigger Assembly + piston) by Snow Wolf.
The bolt and the barrel are made of metal. The stock is made of durable polymer as well as the original. The foot of the stock is rubberized and adjustable to suit every shooter. Metal top rail allows to attach rifle scope, laser or any other accessories. Additional front sling swivel for bipod installation (Stud nut type). Magazine accommodate 20 BBs. Internal trigger mechanism is full metal with ZERO piston catch!
This military version is characterized by a more robust outer barrel, which has the same diameter and longitudinal grooves along its entire length.
---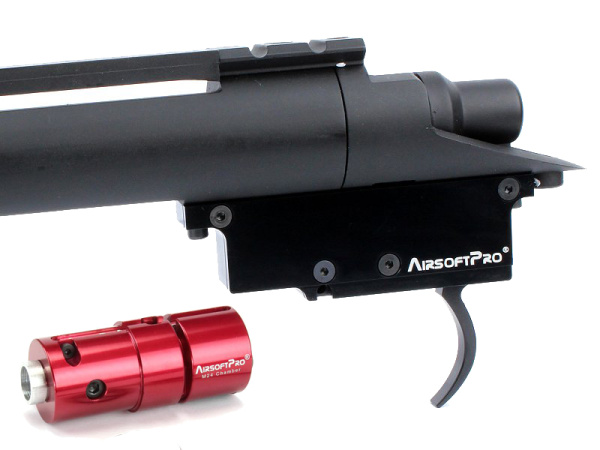 UPGRADE OPTIONS
This rifle is very well customizable and with our AirsoftPro upgrade parts you can achieve a really high performance.
You find suitable parts for your M24 on the "Upgrade AirsoftPro" tab - eg CNC trigger mechanism, CNC hop-up chamber, CNC lightweight piston, enhanced cylinder, rotating steel spring guide, stainless steel cylinder head.
---
PACKAGE CONTENTS
Sniper rifle M24 (SW-04)
Magazine
Silencer adapter
Simple sling
Allen key
2 screws (pay attention to the correct placement, see instructions)
---
INSTALLATION NOTE
The gun is packed in two pieces: the stock and the barrel. Simply put the two parts together and secure them with the screws provided. Be careful, the screws are of different lengths. Use them as described in the manual - the longer one for the trigger and the shorter one to the hole nearby the magazine.
Parameters
General info
| | |
| --- | --- |
| Shooting mode | Semi action |
| Operation | Spring action |
Estimated performance (+/- 10%)
| | |
| --- | --- |
| BB energy (J) | 1,2 |
| Velocity (m/s) | 110 |
| Velocity (fps) | 361 |
| Theoretical range (m) | 50 |
| Appropriate balls weight | |
Outer specs.
| | |
| --- | --- |
| Length (mm) | 1145/1210 |
| Weight (g) | 3600 |
| Material | Metal alloy |
| Gunstock | Plastic (or fiber), solid |
| Foregrip | Plastic or fiber |
Inner specs.
| | |
| --- | --- |
| Inner barrel length | 530mm |
| Piston | nylon (plastic) |
| Hop-up | Metal adjustable Hop-Up |
Magazine
| | |
| --- | --- |
| Capacity | 20 |
| Type of the magazine | Low capacity spring |
Package contents
| | |
| --- | --- |
| Battery | No |
| Charger | No |
| Magazine | Yes |
| Other accessories | BB loader |