Airsoft rifle ELAR MARK 18 MOD1 - Elite Version
Description
The E&L Airsoft brand, known for production of realistic and durable wood and steel replicas, introduces something from the other side of the iron curtain. These are replicas of AR15 American rifles, which like the AK series, are known for solid materials, high quality and reliability.
This is an Elite version that is more affordable but still high quality. Here we find CNC parts that are made of the finest aluminum alloy 6061 used in the production of aircraft. The most stressed parts are made of steel.
The weapon is made exclusively of metal, except motor grip and stock, which are made of polymer. The body, outer barrel and RIS foregrip are made of 6061 aluminum on precision CNC machines. Parts such as flashider, magazine catch, pins, trigger are made of steel.
The battery is inserted into the tube stock. Thanks to the RIS body and foregrip, you can put a lot of different accessories on your weapon. If you pull the charging lever, you will reach the hopup chamber. Thanks to the new type of metal chamber with comfortable adjustment, the pressure remains constant and does not release. The weapon has a folding sights also.
AR15 Replicas from E&L are equipped with a specially reinforced gearbox version 2. It has a quick-change spring system. This system allows you to quickly change the spring at the airsoft games with power limits. You do not have to dissassemly the weapon, just remove the stock and the tube and replace the spring immediately.
What do you find inside?
New type of reinforced gearbox with 4 ball bearings 7 mm + 2 sliding bearings
QD system
Steel gear wheels
CNC brass cylinder
Self-lubricating piston with POM head
The package includes a 120 round steel pressure magazine.
---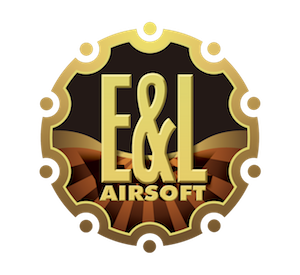 E&L Airsoft
(EMEI LANDARMS) was established in December 2012. In 2013, E&L had launched the most authentic Airsoft AEG AK – AKM / AKS-74N / AKS-74MN / AK-74MN / AK-104PMC, and received extremely positive feedback & comment-"Redefines Realism", "Ultimate AK AEG", "Masterpiece" etc, quickly provoked a strong reaction from the first distributing market - Japan, Taiwan, Hong Kong and the Europe.
The E&L replicas are made of the same materials and with the manufacturing procedures as the real firearms - this makes these replicas totally unique.
Parameters
General info
| | |
| --- | --- |
| Shooting mode | Semi and full auto |
| Operation | Electric (AEG) |
Estimated performance (+/- 10%)
| | |
| --- | --- |
| BB energy (J) | 1,7 |
| Velocity (m/s) | 130 |
| Velocity (fps) | 427 |
| Theoretical range (m) | 59 |
| Appropriate balls weight | |
Outer specs.
| | |
| --- | --- |
| Length (mm) | 710/790 |
| Weight (g) | 2860 |
| Material | Metal alloy |
| Gunstock | Plastic (or fiber), folding |
| Foregrip | Metal, RIS mount |
Inner specs.
| | |
| --- | --- |
| Inner barrel length | 280 |
| Gearbox material | Metal alloy |
| Bearings | 7mm metal |
| Gears | machined steel |
| Piston | nylon with 3 metal teeth |
| Piston head | Nylon head |
| Hop-up | Metal adjustable Hop-Up |
Magazine
| | |
| --- | --- |
| Capacity | 120 |
| Type of the magazine | Low capacity spring |
Battery
| | |
| --- | --- |
| Suitable battery | |
| Connector | Mini Tamiya |
| Battery location | In stock |
Package contents