Airsoft rifle M4 SD Sportline 7" Alpha stock (LT-15 Gen.2) - TAN
Description
This Lancer Tactical M4 is, due to its low weight and price, especially suited to beginner players, but it will also be appreciated by the more experienced players due to its quality and performance.
Gun is equiped with new Alpha stock. Uunique design, which is made of lightweight yet durable polymer. It offers new opportunities. Notice the M4 magazine well, which means a possibility of a magazine ready to quick change. Altough it doesn't look so, the stock has adjustable length - four positions. And of course, the stock is of a well-designed ergonomic shape. There is a quick detachment sling mount on the left and the right. This Apha stock support storage of the twin CQB battery. Half is inserted into the stock under the tube and the other into the stock tube. See photos in the gallery.
At the end of the barrel is a silencer, which begins in the RIS forearm. In this case, the Socom type silencer is not only cool design, but also hides the inner barrel. It is well axially guided and is therefore about 36 cm long.
In the package, you find two magazines. One long classic AR-15 look. It is plastic, capacity 140BBs. The second, inserted in the stock magwell, has a modern look with a capacity of 70 rounds. We suggest to buy BBs quick loader. See accessories bellow. Gun is capacity with the common M4 magazines.
The gun contains a metal piston for better durability and a 6.03 mm precision barrel with a ProWin style hop-up chamber for optimal range and fine adjustment. The weapon also has a popular quick change spring system - QSC. Changing the spring is a matter of a few minutes. Stock gun comes with the M100 spring inside, which is suitable for CQB skirmish. For more demanding players, there is also a M120 spring included in the packing
Body and handguard of lightweight polymer
External Barrel made of metal
Polymer silencer
RIS type handguard
Detachable, foldable sights
Retractable ALPHA adjustable stock with the magwell
Lancer Tactical laser logo
Own Serial Number
Performance 100 m/s / 120 m/s
Piston with metal tooths
8 mm metal bearings
The QSC system
Package include
Plastic 140 rounds and 70 rounds capacity magazine
Extra spring M120
High quality battery 9.6 V
Simple Charger
Lancer Tactical PVC patch
Sample of the 0,20g BBs - 1000pcs
---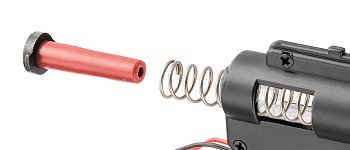 Quick spring change system
The gearbox and the replica body have QSC system - spring change takes few minutes. The QSC system (the quick spring change system), means that the spring guide can be removed from the gearbox without removing the gearbox from the body. There are locks on the head of the spring guide and the holes in the gearbox. By turning the spring guide, the spring guide and spring can be removed. This weapon has also a QSC system on the body - no need to remove the gearbox from the body - just remove the stock and unscrew the stock tube.
---
Cylinder and piston
The cylinder is polished for smooth piston action and increased performance.
The piston has a metal tooth for maximum durability with stronger springs. The piston head is plastic with rubber compound, for a softer and lighter stop and longer life.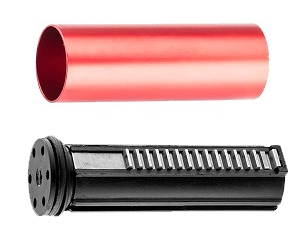 ---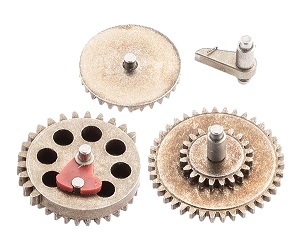 Gears
Metal gears have a straight tooth that reduces axial forces. The piston gear is equiped with a BB supply cam for smooth BBs supply from magazine, even on high rate of fire.
---
Lancer Tactical was established in 2012 to bring affordable, budget-friendly products to the sport of airsoft. Our product line consists of quality automatic electric guns (AEGs), as well as tactical gear used in airsoft, paintball, law enforcement, and military training. We carry a wide range of AEGs from polymer construction for beginner airsoft players to full metal construction for military simulation or training. Some AEGs come equipped with blowback recoil for enhanced realism.
Parameters
General info
| | |
| --- | --- |
| Shooting mode | Semi and full auto |
| Operation | Electric (AEG) |
Estimated performance (+/- 10%)
| | |
| --- | --- |
| BB energy (J) | 1,4 |
| Velocity (m/s) | 120 |
| Velocity (fps) | 394 |
| Theoretical range (m) | 54 |
| Appropriate balls weight | |
Outer specs.
| | |
| --- | --- |
| Length (mm) | 800/860 |
| Weight (g) | 2400 |
| Material | Polymer body with small metal parts |
| Gunstock | Plastic (or fiber), retractable |
| Foregrip | Plastic or fiber |
Inner specs.
| | |
| --- | --- |
| Inner barrel length | 320 mm |
| Gearbox material | Metal alloy |
| Bearings | 8mm metal |
| Gears | metal alloy |
| Piston | nylon with a full metal teeth |
| Piston head | Nylon head |
| Hop-up | Plastic adjustable Hop-Up |
Magazine
| | |
| --- | --- |
| Capacity | 70 |
| Type of the magazine | Low capacity spring |
Battery
| | |
| --- | --- |
| Suitable battery | |
| Connector | Mini Tamiya |
| Battery location | In stock |
Package contents
| | |
| --- | --- |
| Battery | Yes |
| Charger | Yes |
| Magazine | Yes |
| Other accessories | extra M120 spring, extra mag |
Our advice: This gun packing include a cheap no-brand battery charger. It is intended only for replica testing. Due to its limited life, it is not suitable for continuous use and charging of high quality batteries. We highly recommend you to purchase a higher quality charger.
VERIFIED ACCESSORIES FOR THIS WEAPON
Save time by selecting appropriate and compatible accessories. We have tested a suitable battery, charger and BBs for you. Everything you need to play. All in cart by just one click.
SKU: 5176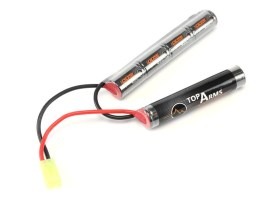 NiMH Battery 8,4V 1600mAh - Mini CQB [TopArms]
SKU: 5181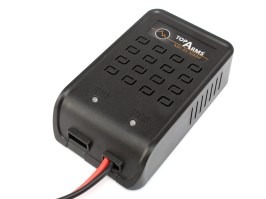 Smart NIMH charger MH-8S [TopArms]
SKU: 3967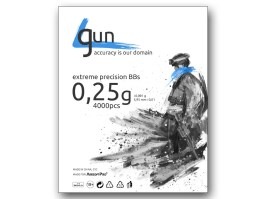 Airsoft BBs 4GUN 0,25g 4000pcs - white [4gun]
ADD ACCESSORIES IN TO CART
SKU: 2169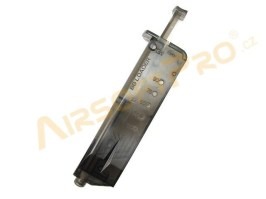 SKU: 4476