Airsoft rifle LT-32 M4 SPC Hybrid 8'' ETU - TAN
Description
This Lancer Tactical M4 is, due to its low weight and good price, especially suited to beginner players, but it will also be appreciated by the more experienced players due to its quality, performance and inner upgrade parts in first place.
The gun contains a piston with full steel teeth, 8mm ball bearing, spring guide with bearing, ETU - Electronic Trigger Unit and a 6.03 mm precision barrel with a ProWin style hop-up chamber for optimal range and fine adjustment. The weapon also has a popular quick change spring system - QSC. Changing the spring is a matter of a few minutes. Stock gun comes with the M100 spring inside, which is suitable for CQB skirmish. For more demanding players, there is also a M120 spring included in the packing
The Lancer "Fast Trigger": Lancer Tactical Hybrid Gen 2 AEGs come fully equipped with the Lancer Fast Trigger just like the ProLine series. Modeled with a bladed flat trigger design, an ETU and a MOSFET all located within the gearbox, additional wiring has been reduced, amplifying trigger response.
The most important evolution of the new Proline Hybrid is undoubtedly its electronic trigger unit - ETU GEN2: This trigger allows increased response, a trigger sensitivity, low voltage battery protection, complete gearbox cycles etc... a small revolution, always at affordable price.
Gearbox:
Lancer Tactcial Engraved Metal Gearbox
Steel gears 18:1 ratio (Piston gear with magnet for work with ETU)
8 mm bearings
14 steel teeth piston
Red anodized cylinder for smooth surface
Spring guide with metal base and bearing
Quick Spring Change (QSC)
Hi-speed metal trigger
ETU GEN2 - electronic trigger unit with Mosfet
Low resistant, 16AWG shielded wiring
Internal parts:
6.03mm precision barrel from polished brass
Pro-Win style rotatory Hop-Up chamber
50° hop-up rubber
External parts:
High density polymer body
Metal outer barrel
External barrel, flashider, cocking lever, magazine retainer and other small parts are made of Metal
Foldable sight from Nylon fiber
Ergonomic metal trigger guard
Ergonomic motor grip
M-LOK aluminum handguard
Steel cocking lever with hi-speed handle
300 rounds metal Hi-Cap magazine
Double / tripple stick (CQB) LiPo or NiMH battery fits into crane stock
Package:
300 rounds metal Hi-Cap magazine
Extra spring M120
Lancer Tactical PVC patch
Small package (1000 pcs) of 0,2g BBs
---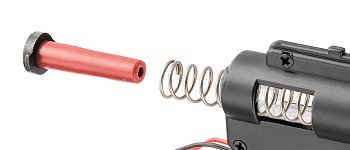 Quick spring change system
The gearbox and the replica body have QSC system - spring change takes few minutes. The QSC system (the quick spring change system), means that the spring guide can be removed from the gearbox without removing the gearbox from the body. There are locks on the head of the spring guide and the holes in the gearbox. By turning the spring guide, the spring guide and spring can be removed. This weapon has also a QSC system on the body - no need to remove the gearbox from the body - just remove the stock and unscrew the stock tube.
---
ETU Gen.2
This Electronic Trigger Unit provide many very usefull features, like increased response and ROF, a trigger sensitivity, low voltage battery protection, complete gearbox cycles etc... Thanks to this, the performance is very stable and lifetime of the gun and also battery is much longer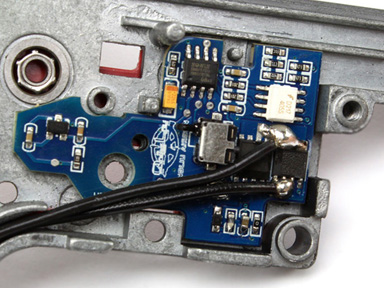 ---
Cylinder and piston
The cylinder is polished for smooth piston action and increased performance.
The piston has a metal tooth for maximum durability with stronger springs. The piston head is plastic with rubber compound, for a softer and lighter stop and longer life.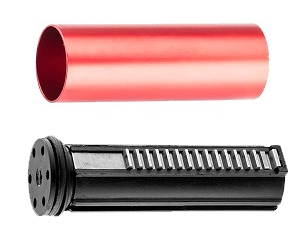 ---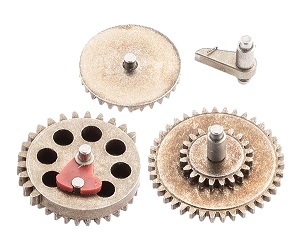 Gears
Metal gears have a straight tooth that reduces axial forces. The piston gear is equiped with a BB supply cam for smooth BBs supply from magazine, even on high rate of fire.
---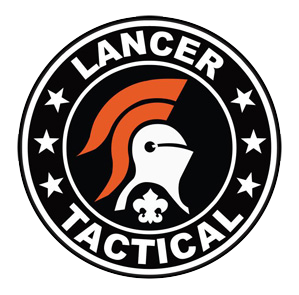 Lancer Tactical was established in 2012 to bring affordable, budget-friendly products to the sport of airsoft. Our product line consists of quality automatic electric guns (AEGs), as well as tactical gear used in airsoft, paintball, law enforcement, and military training. We carry a wide range of AEGs from polymer construction for beginner airsoft players to full metal construction for military simulation or training. Some AEGs come equipped with blowback recoil for enhanced realism.
Parameters
General info
| | |
| --- | --- |
| Shooting mode | Semi and full auto |
| Operation | Electric (AEG) |
Estimated performance (+/- 10%)
| | |
| --- | --- |
| BB energy (J) | 1,4 |
| Velocity (m/s) | 120 |
| Velocity (fps) | 394 |
| Theoretical range (m) | 54 |
| Appropriate balls weight | |
Outer specs.
| | |
| --- | --- |
| Length (mm) | 650-730 |
| Weight (g) | 2160 |
| Material | Polymer body with small metal parts |
| Gunstock | Plastic (or fiber), retractable |
| Foregrip | Metal, M-LOK mount |
Inner specs.
| | |
| --- | --- |
| Inner barrel length | 230mm |
| Gearbox material | Metal alloy |
| Bearings | 8mm metal |
| Gears | metal alloy |
| Piston | nylon with a full metal teeth |
| Piston head | Nylon head |
| Hop-up | Plastic adjustable Hop-Up |
Magazine
| | |
| --- | --- |
| Capacity | 300 |
| Type of the magazine | High capacity winding |
Battery
| | |
| --- | --- |
| Suitable battery | |
| Connector | Mini Tamiya |
| Battery location | In stock |
Package contents
| | |
| --- | --- |
| Battery | No |
| Charger | No |
| Magazine | Yes |
| Other accessories | extra M120 spring, 0,2g bbs (1000pcs) |