M82 (LT-20) spring action airsoft sniper rifle + riflescope 3-9x40, black
Availability:
Not in stock
Description
Real weapon was designed and built by Barrett Firearms Mfg. Inc., specifically by the owner and designer Ronnie Barrette in 1980. It was introduced as a Model 82 (M82), but better known as Barret Light Fifty. Its upgraded version of M82A1 appeared in 1986.
The Barrett M82 is a heavy sniper and anti-material rifle, taken into the US military armament in the late 1980s. The weapon is designed as a self-loading sniper rifle for long distances. Dedicated for the army and security forces and as armament of light combat vehicles. It is one of the first weapons of its kind.
It uses powerful .50 BMG ammunition. Their strong backlash is minimized by using an effective muzzle brake that deflects most of the gas to the sides. This is a sniper rifle of special forces. Its efficient range is over 1800 meters. It was designed to destroy light armored transporters.
This is airsoft version great value polymer replica of the well-known M82 A1 Barrett sniper rifle. It is spring action rifle, with the internals very similars with the popular SVD. So many AirsoftPro upgrade parts fit in. The gun has a massive external parts, such as compensator, low capacity magazine, long RIS rail to which you can attach a scope of various sizes. Body is polymer, outer barrel made of aluminium.
Replica has high velocity 135 m/s (450 FPS) and can be easy upgraded by any AEG spring or AirsoftPro upgrade parts primary designed for SVD.
The package also includes a riflescope with a lens diameter of 40 mm and zom 3 to 9x. It is easily attached to the long RIS rail on the top of the weapon using the included mounting rings. magazine has capacity 45Bbs.
We recommend the weapon to all beginners and intermediates who want to be different from others.
The package include:
weapon
magazine
optics (riflescope)
PVC patch Lancer tactical
Pack of BBs (1000pcs)
---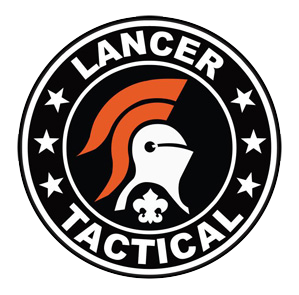 Lancer Tactical was established in 2012 to bring affordable, budget-friendly products to the sport of airsoft. Our product line consists of quality automatic electric guns (AEGs), as well as tactical gear used in airsoft, paintball, law enforcement, and military training. We carry a wide range of AEGs from polymer construction for beginner airsoft players to full metal construction for military simulation or training. Some AEGs come equipped with blowback recoil for enhanced realism.
Parameters
General info
| | |
| --- | --- |
| Shooting mode | Semi action |
| Operation | Spring action |
Estimated performance (+/- 10%)
| | |
| --- | --- |
| BB energy (J) | 1,8 |
| Velocity (m/s) | 135 |
| Velocity (fps) | 443 |
| Theoretical range (m) | 61 |
| Appropriate balls weight | |
Outer specs.
| | |
| --- | --- |
| Length (mm) | 1385 |
| Weight (g) | 3020 |
| Material | Plastic |
Inner specs.
| | |
| --- | --- |
| Inner barrel length | 490 |
| Piston | nylon (plastic) |
Magazine
| | |
| --- | --- |
| Capacity | 45 |
| Type of the magazine | Low capacity spring |
Package contents
| | |
| --- | --- |
| Battery | No |
| Charger | No |
| Magazine | Yes |
SKU: 2625