Airsoft pistol CZ SHADOW 2 - CO2, blowback, full metal
Description du produit
Designed by top tier competition shooters, the is well balanced and made for speed and precision.
The ASG CZ Shadow 2 CO2 Airsoft pistol takes from it's real steel counterpart and delivers on all the same great features. The slide is crafted out of anodized aluminium and features a less rounded and more angled design with a slight weight increase due to a wider slide. The added weight and design of the slide will make recoil management better and give off more precise shots on target.
---
The CZ Shadow 2 is the new flag ship in the CZ familie line of pistols.
---
The serrations on the slide are deeper and more pronounced giving the shooter a firmer grip when racking the slide.
The checkering at the front and back of the pistol grip are more sharp and when combined with the CNC machined zinc shells which are thinner in profile, promote a lot better wrap around the pistol grip. The trigger guard has been extended as well for easier trigger access and allows better usage of gloves.
The Shadow 2 also features a new grip angle cut which is deeper at the beaver tail along with a new undercut at the trigger guard. This lets the Shadow 2 sit more firmly in the shooters hand and promotes better recoil management.
The enlarged magazine catch is adjustable with 3 available positions to be set using only a hex key. The mag catch has more outwards profile to give the shooter a positive confirmation when pressing the mag catch.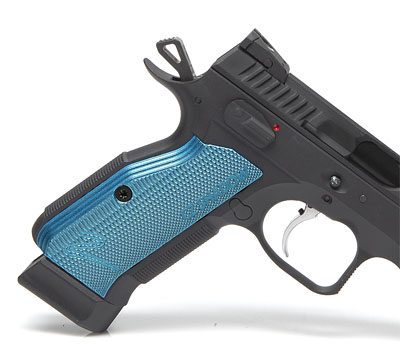 It disassembles just like the real gun and features a fiber optic front sight and an accessory rail with upgraded trigger package.
Features:
Full metal construction
Fiber optic front sight
Comfortable grip and CNC machined zinc shells
Extended trigger guard
Ambidextrous safety
Extended magazine release with 3 available positions
Front rail to mount accessories
---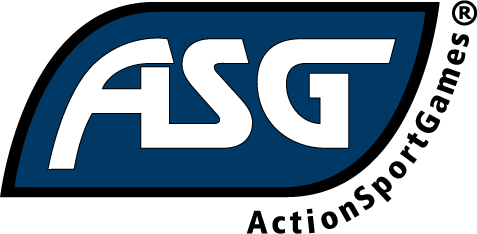 ActionSportGames (ASG)
is a worldwide leader in the business of replica firearms and accessories manufacturing – including Airsoft guns, Airguns, CO2 guns and firearms replicas. They specialize in 1:1 scale replica guns and accessories for fun, action, sports, entertainment and collection. Their assortment consists mainly of licensed models and exclusive subbrands of ActionSportGames® A/S. One of ASGs goals is to become the preferred supplier in the firearms replica business through worldwide license agreements, quality brands and premium service – before, during and after sales. Cooperation with CZ of the Czech Republic is a good example of how successful such a partnership can be, since most of CZs production firearms are now represented as both Airsoft guns and Airguns.
Parameters
Information de base
| | |
| --- | --- |
| Mode(s) de tir | Seule une action semi |
| Type | Gaz avec blowback (GBB) |
Performance estimée (+/- 10%)
| | |
| --- | --- |
| Energie (J) | 1,0 |
| Source d'énergie | Capsule de CO2 |
| Vitesse de la bille (m/s) | 100 |
| Vitesse de la bille (fps) | 328 |
| Portée théorique (m) | 45 |
| Boules de poids appropriés | |
Spécifications externes
| | |
| --- | --- |
| Taille (mm) | 220 |
| Poids (g) | 1231 |
| Matériel | Aluminium usiné CNC |
Spécifications internes
| | |
| --- | --- |
| Longueur du canon interne (mm) | 110 |
| Hop-up | Métal réglable Hop-Up |
Chargeur
| | |
| --- | --- |
| Contenance | 26 |
| Type de chargeurs | Bas capacité ressort |
Contenu du paquet
| | |
| --- | --- |
| Batterie | Non |
| Chargeur de batterie | Non |
| Chargeur | Oui |
SKU: 713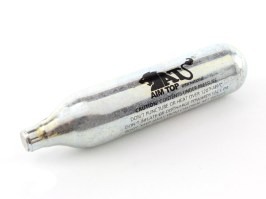 SKU: 4018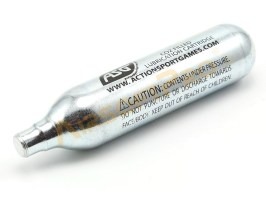 SKU: 2624