Airsoft sniper rifle M40A5 (CM.700A) - black
Description du produit
The legend in our eshop... finally! The M40A5 is a famous American rifle, which is used for example by the Marine Corps snipers. This replica by Cyma is really well done.
As you grab it, you feel it's so far better than replicas by other Chinese manufacturers such as Well. The receiver and outer barrel are made of metal. The barrel is a really thick piece of metal. The stock is made of very durable and hard plastic with a rough surface, which won't slip out of your hands. The metal cheek rest is adjustable. The stock length is also adjustable by the number of installed pads. Notice the long RIS rail - you won't have problems with attaching a scope. Additionally, the stock has 4 QD sling base mounts (2 on the left, 2 on the right). QD ring is not included, but you can find it as a accessories bellow.
In order to match gun realism, it is equiped with dummy 7.62mm metal magazine. However, the magazine is "fake" and cannot be removed. The actual BBs magazine is a few centimeters further, recessed in the forend.
The muzzle brake is also metal and can be easily removed after unscrewing an allen screw at the bottom. To mount another flashider, you need an adapter with an inner thread.
At the end of the foregrip there is a metal mounting around the barrel. It has standard 20mm RIS rails on three sides and allows the installation of additional accessories. For example, laser markers.
The Cyma M40A5 offers a considerable upgrade potential. Even out of the box, its velocity is 160 mps (520 FPS)! If it's not enough for you, we offer AirsoftPro upgrade parts. See AirsoftPro Upgrade bookmark bellow. The barrel (380 mm length) and bucking are of the AEG standard. However, when upgrading, you can use a barrel up to 460 mm - it will hide in the flashider. The chamber is regulable by 2 allen hex screws in the magwell - it is the same system as our AirsoftPro VSR chambers or PDI ones have. The cylinder volume is another sign of the potential for power.
This M40A5 is for you, if you want a powerful weapon with a superior quality externals, which can be felt as an weapon and not as a toy (it weights 3.7 kgs without any accesories).
A speadloader and 2 allen keys are included. Scope and bipod is not included.
---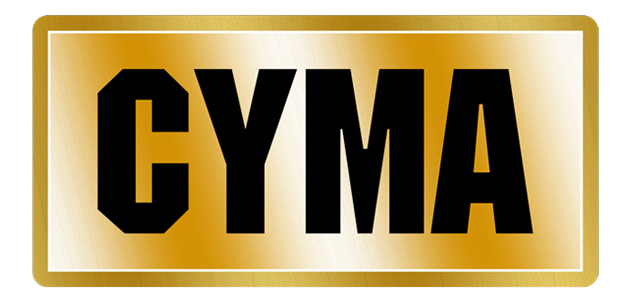 CYMA
is among the oldest, most experienced and the largest Airsoft manufacturing facility in the world. Known for their unmatched quality control and professionalism, CYMA is selected to be the OEM of a vast amount of Airsoft products. Durability and performance meets affordability!
Parameters
Information de base
| | |
| --- | --- |
| Mode(s) de tir | Seule une action semi |
| Type | Ressort |
Performance estimée (+/- 10%)
| | |
| --- | --- |
| Energie (J) | 2,6 |
| Vitesse de la bille (m/s) | 160 |
| Vitesse de la bille (fps) | 525 |
| Portée théorique (m) | 72 |
| Boules de poids appropriés | |
Spécifications externes
| | |
| --- | --- |
| Taille (mm) | 1170 |
| Poids (g) | 3700 |
| Matériel | Alliage métallique |
| Crosse | Plastique (ou fibre), solide |
| Poignée | En plastique ou en fibre |
Spécifications internes
| | |
| --- | --- |
| Longueur du canon interne (mm) | 380mm |
| Piston | nylon (plastique) |
| Hop-up | Métal réglable Hop-Up |
Chargeur
| | |
| --- | --- |
| Contenance | 30 |
| Type de chargeurs | Bas capacité ressort |
Contenu du paquet
| | |
| --- | --- |
| Batterie | Non |
| Chargeur de batterie | Non |
| Chargeur | Oui |
| VPRPRISLUSENFR | BB loader |