Tactical police 3W LED flashlight TREX 3 with Cree diod
Description du produit
Police tactical duralumin flashlight with advanced powerful 3W LED diode (CREE chip) with extremely high luminous intensity (approx. 150 lm). Unbreakable frontal polycarbonate glass. It lights an object with sharp beam at a distance of approx. 100 meters. The switch is at the bottom of the flashlight. Pressing the switch switches the flashlight ON or OFF.
Highly resistant damp-proof duralumin body. Strongly grooved rubber head ring prevents rolling of the flashlight on smooth surface.
Power supply by 3 pcs of alkaline AAA batteries, which are included in the price.
Dimensions:
lenght 115 mm
body diameter at the handle 27 mm
weight incl. batteries 125 g.
For this flashlight is determined PS-02 pressure switch.
---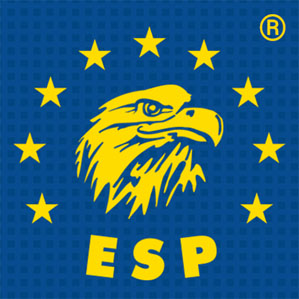 Euro Security Products s.r.o. (Ltd.)
ESP is a well-known manufacturer of varied devices for professional use and for personal defense. The company is currently one of the world's largest manufacturers in the field of police and security equipment.
The history of this Czech company dates back to 1992 when it was established. A few years later – in 1996, the ESP company started to produce a wide range of professional security products. Their activity in the past years resulted in the development of new accessories, which represent an integrated set of devices intended for personal protection.
SKU: 653