Suppressor adapter for Snow Wolf M24
Description du produit
Suppressor adapter for airsoft rifles. It can be simply screwed at the end of the gun barrel, instead of the cap. On the smaller thread, you can screw any suppressors or flash hiders with a standard 14mm left-hand (CCW) thread. A rubber ring is inserted inside the adapter. It improves the barrel axis lead. It fix inner barrel exactly in the center of the adapter and reduce the vibrations. The adapter is also equipped with a thread cover that prevents damage or thread dirt.
Specs:
Aluminum alloy 6061 T6
Black anodized
Made on precision CNC machines
Original AirsoftPro CZ design
Inner edge for better alignment
Inner barrel passes through the centering rubber ring
Diamond knurled surface on adapter and thread cover
Approximate gun thread: M18x1 CCW
Outer thread: M14x1 CCW
Crosswise holes in both threads are for better tightening or loose
Each piece has a thread procetion ring. Protects against damage and dirt
Fit on:
Snow Wolf M24 (not fit on military version)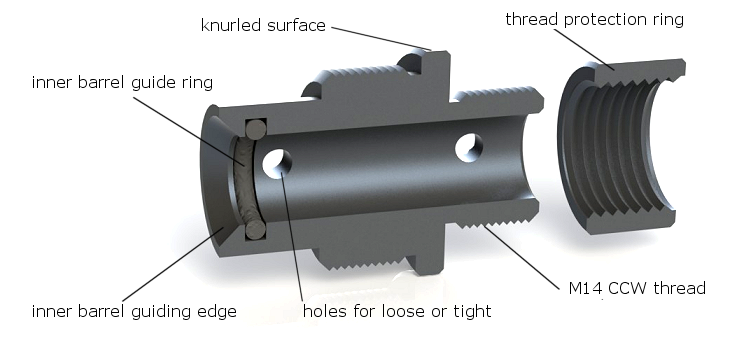 ---
AirsoftPro
Nous sommes dans le secteur airsoft depuis 2007. Nous écoutons les besoins de nos clients et essayons d'apporter des produits à des prix raisonnables. Nous recueillons des informations sur 15 années d'expérience avec airsoft. Les pièces de rechange et de mise à niveau de notre marque AirsoftPro sont bien connues du marché airsoft en Europe.
Actuellement, notre boutique est la boutique aisoft la plus populaire en République tchèque, avec ses excellents retours. Voir www.heureka.cz . En 2016, nous exploitons un nouvel eshop moderne et travaillons à l'amélioration de la logistique des entrepôts afin d'accélérer le traitement des commandes.