M4 KEYMOD 15" Octarms X AMOEBA PRO, full metal - black
Description du produit
The highest M4 Amoeba PRO series - 15" Octarms hand guard version.
A very well manufactured replica in all respects.
The upper and lower reciever, Keymod hand guard and RIS rails are made on precise CNC machines. Polymer folding sights are located on the RIS rail. By pulling on the double-sided metal bolt lever, the dust cap is opened and allowing access to the hop-up system control. The butt stock is made of polymer with a rubberized stock pad and adjustable to four positions for higher shooter comfort. The battery is inserted into the stock tube. Its internal diameter is 2.4cm, length 15cm (you can also insert a longer battery up to 25cm but the stock have to be extended). The owner will appreciate a non-slip texture on the surface of the pistol grip. A steel sling adaptor is already installed on the replica.
The surface of the weapon is anodized (chemically treated) to provide greater resistance to weathering.
Each weapon has its own certificate of test shooting.
Original OCTARMS metal RIS handguard with Keymod system
KeyMod sections are located at the 3, 6 and 9 o'clock position. With the keylocks, additional RIS rails can be attached to any position (the rails are not included). The rail is mounted to the upper receiver with 6 hex screws. The barrel freely passes through the hand guard and ends with a flame hider.
The "Octarms" KeyMod rail is CNC-machined out of 6063 aluminum alloy and very lightweight. It is made of one piece, which increases the durability of the hand guard. The lenght is 15" (381mm).
ECFS gearbox
Internally, this replica is among the most advanced airsoft weapons on the market. Metal gearbox with 8mm bearings and reinforced parts, quick-change spring (no need to disassamble the weapon, just remove the stock tube), powerful engine and last but not least the Electronic Firing Control System (EFCS). It is an electronic unit with MOSFET that prevents contact tanning, protects the battery, and makes it easy to set your shooting mode (Safe / Semi / 3rd burst / Auto). The EFCS setup is done by the Ares electronic programmer, which is found in "Related products" below.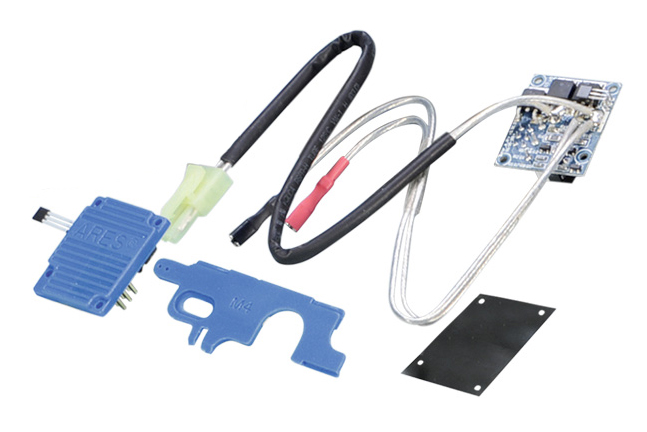 ---
ARES
Fabricant de pistolets Airsoft haut de gamme dans la plus grande variété de modèles et de styles. Basé à Hong Kong, ARES a des partenaires de distribution dans le monde entier, notamment en Amérique, en Europe et en Asie.
Nommé d'après le dieu de la guerre, ARES s'efforce de proposer le plus grand choix de pistolets Airsoft de haute qualité. Ce n'est pas une entreprise clonée, les produits ARES suivent leur propre processus de R & D pour créer leurs propres conceptions de boîte de vitesses. ARES est également le pionnier de nombreux modèles qui n'existaient pas auparavant sur le marché de l'airsoft, notamment le TAVOR21 sous licence, et de nombreux autres modèles uniques. Les pistolets ARES tournent tous autour de 360 à 380 images par seconde et sont conçus pour pouvoir être mis à niveau facilement pour des performances maximales.
Parameters
Information de base
| | |
| --- | --- |
| Mode(s) de tir | l'action et un et dose |
| Type | Électrique (AEG) |
Performance estimée (+/- 10%)
| | |
| --- | --- |
| Energie (J) | 1,6 |
| Vitesse de la bille (m/s) | 125 |
| Vitesse de la bille (fps) | 410 |
| Portée théorique (m) | 56 |
| Boules de poids appropriés | |
Spécifications externes
| | |
| --- | --- |
| Taille (mm) | 850/930 |
| Poids (g) | 2660 |
| Matériel | Alliage métallique |
| Crosse | Plastique (ou fibre), rétractable |
| Poignée | Métal, monture RIS |
Spécifications internes
| | |
| --- | --- |
| Longueur du canon interne (mm) | 370mm |
| Matière | Alliage métallique |
| Roulements | 8mm métal |
| Engrenages | alliage métallique |
| Piston | nylon avec des dents en métal |
| Tête de piston | Tête en nylon |
| Hop-up | Hop-Up réglable en plastique |
Chargeur
| | |
| --- | --- |
| Contenance | 300 |
| Type de chargeurs | Haute capacité |
Batterie
| | |
| --- | --- |
| Batterie conseillée | |
| Connectique | Mini Tamiya |
| Emplacement de la batterie | En stock |
Contenu du paquet
| | |
| --- | --- |
| Batterie | Non |
| Chargeur de batterie | Non |
| Chargeur | Oui |