Pepper spray TORNADO Police with svítilnou - 63ml
Description du produit
TORNADO represents a completely new category of defensive sprays, which at present has no equivalent on the market with defensive sprays.
A super-bright flashlight with white LED diode was added to the classical defensive spray. Most of critical situations, during which people defend themselves by defensive sprays, takes place particularly in darkness. It is impractical to hold flashlight in one hand and spray in the other one. Moreover it is quite problematic to co-ordinate movements of both hands at critical situations. At the same time it is necessary to aim the spray precisely at the attacker's face and flashlight should therefore light the place where irritating gas should hit the adversary.
Our "spray flashlights" now make it possible to handle both flashlight and the spray with one hand only and to use thus the other hand for better defence. Beam of light enables precise aiming at the target. Special head with super-bright LED diode is mounted on classical spray can. Covering cap, which prevents unwanted shot of spray contains two batteries CR2032 and it serves at the same time also as a light switch. It is possible to use this "spray flashlight" in darkness as ordinary flashlight. In case of danger you can immediately start you defence just by pushing the button. Intensive spotlight lights the aggressor's face and blinds him. After emptying of the TORNADO spray can the light module is simply mounted on a spare can.
Volume: 63 ml
Diameter: 35 mm
Height: 137 mm
Weight: 124 g
Package contains 2 pcs CR 2032 battery
---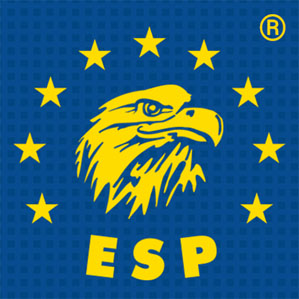 Euro Security Products s.r.o. (Ltd.)
ESP is a well-known manufacturer of varied devices for professional use and for personal defense. The company is currently one of the world's largest manufacturers in the field of police and security equipment.
The history of this Czech company dates back to 1992 when it was established. A few years later – in 1996, the ESP company started to produce a wide range of professional security products. Their activity in the past years resulted in the development of new accessories, which represent an integrated set of devices intended for personal protection.