Tactical 5W LED flashlight BARRACUDA 5 + USB adapter and battery
Description du produit
Tactical flashlight with the innovative Cree LED chip XP-G with 5W performance ensures the luminosity of up to 380 lm. The flashlight is waterproof (it can be submerged in shallow water) and it can withstand rough handling.
The flashlight is made from highly resistant duralumin. The front glass is made of polycarbonate. Robust body of the flashlight has ergonomic shape. It enables also so called "cigar holding" together with weapon.
Its grooved surface enhances significantly safe grip under any conditions. Strongly grooved head prevents rolling of the flashlight on smooth surface.
The metal switch is placed at the end of the flashlight. The switch is tactical – it can be pressed lightly for momentary output (lasting only through the duration of the pressure) or it can be pressed fully, switching the flashlight into constant output.
Dimensions:
head diameter 34 mm
body diameter 25 mm (at the handle)
length 136 mm
weight 142 g (including batteries)
Battery, charger and USB cabel included
For this flashlight is determined PS-01 pressure switch.
---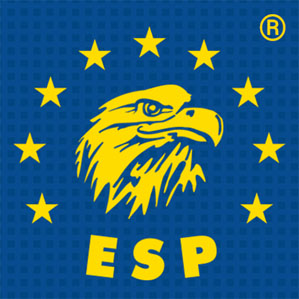 Euro Security Products s.r.o. (Ltd.)
ESP is a well-known manufacturer of varied devices for professional use and for personal defense. The company is currently one of the world's largest manufacturers in the field of police and security equipment.
The history of this Czech company dates back to 1992 when it was established. A few years later – in 1996, the ESP company started to produce a wide range of professional security products. Their activity in the past years resulted in the development of new accessories, which represent an integrated set of devices intended for personal protection.
SKU: 653